Controller TS1000
Overview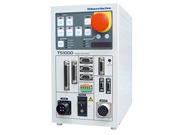 This SCARA robot controller can accommodate a maximum control axes of 4.
Provided with a wide variety of functions including interrupt processing, signal and communication processing during operation, arithmetic operation, limiting torque, sequencer, and self-diagnosis.
TEL:
TOKYO MAIN BRANCH: 81-(0)3-3509-0270
NUMAZU HEADQUARTERS: 81-(0)55-926-5032
Specifications
No. of Controlled Axes
4-axes
Motion Modes
PTP, CP (Linear, Circular), Short-cut
Position Detection
Absolute Encoders
Storage Capacity
Approx. Total: 6400 points + 12800 steps
1 program: 2000 points + 3000 steps
No. of Registrable Programs
Maximum 256 (247 user files + 9 system files)
Programming Language
SCOL (similar to BASIC)
Teaching Unit
teach pendant TP3000 and TP1000
(Programming support PC software TSPC also available)
External Operation Signal
16 input, 16 output
(8/8 can be assigned to system signals)
Hand Control Signals
5 input, 4 output
External Operation Signal
Input
cycle operation mode, start, stop, program reset, etc
Output
Servo ON, operation ready, fault, etc
Serial Communication Ports
RS-232C: 2 ports
Other Functions
Interruption processing, robot motion ON signal, communication processing,
arithmetic operation, torque limit, PLC, self-diagnosis, etc
Power Supply and Capacity
Single-phase,
AC170V-250V, 50/60Hz, 1.1kVA
Outer Dimensions and Mass
170W×290H×280D (mm), Approx. 10kg
PC Software for ProgrammingSupport (optional)
TSPC: Program editor, teaching, remote operation TCPRGOS: PLC sequence program creation(Supporting OS: Windows2000, WindowsXP)
Options
Additional I/O, I/O cable, position date latch function, smooth (constant speed)function, separated operation panel, network (Ethernet: Not supported by TS1000, CC-Link, DeviceNet, Profibus), CE-compliant
- Windows is a registered trademark of Microsoft Corporation in the U.S.A.
- Ethernet is a registered trademark of XEROX Corp. in the U.S.A.
- CC-Link is a registered trademark of CC-Link Partner Association.
- DeviceNet is a registered trademark of ODVA.
- Profibus is a registered trademark of Profibus User Organization.
TEL:
TOKYO MAIN BRANCH: 81-(0)3-3509-0270
NUMAZU HEADQUARTERS: 81-(0)55-926-5032