Controller TS3100
Overview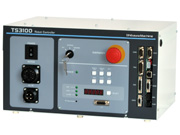 This controller for SCARA robots and vertical articulated robots can accommodate a maximum control axes of 8.
Provided with a wide variety of functions including interrupt processing, signal and communication processing during operation, arithmetic operation, limiting torque, sequencer, and self-diagnosis.
TEL:
TOKYO MAIN BRANCH: 81-(0)3-3509-0270
NUMAZU HEADQUARTERS: 81-(0)55-926-5032
Specifications
No. of Controlled Axes
Maximum 6 axes
Motion Modes
PTP, CP (Linear, Circular), Short-cut, Arch motion
Position Detection
Absolute Encoders
Storage Capacity
Approx. Total: 12800 points + 25600 steps
1 program: 2000 points + 3000 steps
No. of Registrable Programs
Maximum 256 (247 user files + 9 system files)
Programming Language
SCOL (similar to BASIC)
Teaching Unit
Teach pendant : TP3000 and TP1000
(Programming support PC software TSPC also available)
External Operation Signal
32 input, 32 output
Hand Control Signals
8 input, 8 output
External Operation Signal
Input
cycle operation mode, start, stop, program reset, etc
Output
Servo ON, operation ready, fault, etc
Serial Communication Ports
RS232C: (HOST and COM1), RS232C: (TCPRG and POD), RS485: additional I/O (Max. 64 inputs and outputs),RS422: teach pendant, Ethernet: 10 Mbps
Oter Fanctions
Torque control, Interrupt function, self-diagnosis, I/O control, communication during motion,
communication processing, PLC, conveyor synchronisation, etc
Power Supply and Capacity
Single-phase,
AC200V-240V, 50/60Hz, 3.5-4.8kVA
(The power capacity varies depending on the model of the robot.)
Outer Dimensions and Mass
420W×230H×298D (mm), Approx. 17kg
PC Software for ProgrammingSupport (optional)
TSPC: Program editor, teaching, remote operation TCPRGOS: PLC sequence program creation(Supporting OS: Windows2000, WindowsXP)
Options
Conveyor synchronization , Additional I/O, I/O cable, position date latch function, smooth (constant speed)function, separated operation panel, network (Ethernet: Not supported by TS1000, CC-Link, DeviceNet, Profibus), CE-compliant
- Windows is a registered trademark of Microsoft Corporation in the U.S.A.
- Ethernet is a registered trademark of XEROX Corp. in the U.S.A.
- CC-Link is a registered trademark of CC-Link Partner Association.
- DeviceNet is a registered trademark of ODVA.
- Profibus is a registered trademark of Profibus User Organization.
TEL:
TOKYO MAIN BRANCH: 81-(0)3-3509-0270
NUMAZU HEADQUARTERS: 81-(0)55-926-5032