SCARA Robot THP700
Overview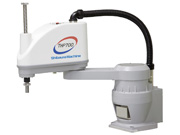 THP700 is a high-speed and high-cycle SCARA robot with arm length 700mm and maximum payload 10kg.
The THP series SCARA robots are capable of continuously operating for extended periods of time at maximum speed, capable of up to 120 cycles per minutes in24-hour continuous operation.
TEL:
TOKYO MAIN BRANCH: 81-(0)3-3509-0270
NUMAZU HEADQUARTERS: 81-(0)55-926-5032
Specifications
Arm Length
Full length
700mm
First arm
350mm
Second arm
350mm
Range of Motion
First axis
±120°
Second axis
±145°
Third axis (Z-axis)
150 mm (option: 300 mm)
Fourth axis (Z-axial rotation)
±360°
Maximum Speed
First axis
340°/s
Second axis
600°/s
Third axis (Z-axis)
2050mm/s
Fourth axis (Z-axial rotation)
1800°/s
Composite speed
7.8m/s
Standard Cycle Time
Horizontal direction: 300 mm
Vertical direction: 25 mm, reciprocating
0.345s *1
(with 2 kg weight)
Load
Maximum payload
10kg
Allowable end moment
0.1kg·m2 *2
Position Repeatability *3
X, Y (plane surface)
±0.03mm
Z-axis (vertical)
±0.02mm
Fourth axis (Z-axial rotation)
±0.02°
Input Signal for Hand
8 inputs, 8 outputs
Air Piping for Hand
φ6×4
Position Detection Method
Absolute encoder mode
Total Weight
Approx. 57 kg
Robot controller cable
Standard: 5m (optional: maximum 25 m)
Controller
*1: Horizontal 300 mm, vertical 25mm, round-trip Continuous operation is not possible beyond the effective load ratio.
*2: Acceleration/deceleration rates may be limited according to the motion pattern, load mass and amount of offset.
*3: The table shows unidirectional positioning repeatability at constant ambient temperature, but NOT absolute positioning accuracy.
TEL:
TOKYO MAIN BRANCH: 81-(0)3-3509-0270
NUMAZU HEADQUARTERS: 81-(0)55-926-5032