SCARA Robot TH450A
Overview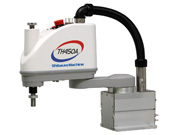 This is a high-speed SCARA robot with arm length 450mm and maximum payload capacity 5kg.
It supports options such as cleanroom design, IP65, and ceiling-mount type.
TEL:
TOKYO MAIN BRANCH: 81-(0)3-3509-0270
NUMAZU HEADQUARTERS: 81-(0)55-926-5032
Specifications
Arm Length
Full length
450mm
First arm
200mm
Second arm
250mm
Range of Motion
First axis
±120°
Second axis
±145°
Third axis (Z-axis)
150mm (option: 300mm)
Fourth axis (Z-axial rotation)
±360°
Maximum Speed
First axis
600°/s
Second axis
600°/s
Third axis (Z-axis)
2000mm/s
Fourth axis (Z-axial rotation)
2000°/s
Composite speed
7.3m/s
Standard Cycle Time
Horizontal direction: 300 mm
Vertical direction: 25 mm, reciprocating
0.30s *1
(with 2 kg weight)
Load
Maximum payload
5kg
Allowable end moment
0.06kg·m2 *2
Position Repeatability *3
X, Y (plane surface)
±0.01mm
Z-axis (vertical)
±0.01mm
Fourth axis (Z-axial rotation)
±0.005°
Input Signal for Hand
8 inputs, 8 outputs
Air Piping for Hand
φ4×4
Position Detection Method
Absolute encoder mode
Total Weight
26kg
Robot controller cable
Standard: 5m (optional: maximum 25 m)
Controller
*1: Horizontal 300 mm, vertical 25mm, round-trip Continuous operation is not possible beyond the effective load ratio.
*2: Acceleration/deceleration rates may be limited according to the motion pattern, load mass and amount of offset.
*3: The table shows unidirectional positioning repeatability at constant ambient temperature, but NOT absolute positioning accuracy.
TEL:
TOKYO MAIN BRANCH: 81-(0)3-3509-0270
NUMAZU HEADQUARTERS: 81-(0)55-926-5032