Vertical Articulated Robot TV600
This vertical articulated robot is 572 mm arm length
TEL:
TOKYO MAIN BRANCH: 81-(0)3-3509-0270
NUMAZU HEADQUARTERS: 81-(0)55-926-5032
Overview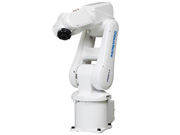 This vertical articulated robot is 572 mm arm length and maximum payload capacity 3kg.
Achieving insertion and copying operations without a force sensor.
It absorbs positioning deviation by control in which the tip of the hand is made soft to control the amount of force.
Specifications
Arm Length
Total Length
572mm
1st Arm
270mm
2st Arm
302mm
Reach
580mm
Working envelope
Axis 1 (J1)
±165°
Axis 2 (J2)
±110°
Axis 3 (J3)
0 ∼ +167°
Axis 4 (J4)
±160°
Axis 5 (J5)
±120°
Axis 6 (J6)
±400°
Maximum speed *1
Axis 1 (J1)
250°/s
Axis 2 (J2)
250°/s
Axis 3 (J3)
250°/s
Axis 4 (J4)
320°/s
Axis 5 (J5)
320°/s
Axis 6 (J6)
420°/s
Composite *2
5.9m/s
Standard cycle time *3

Horizontal: 300mm
Vertical: 25mm

0.58 sec level
Load
Maximum payload *1
3kg
Allowable momentof
inertia at end *1
Axis 4, 5
0.02kg·m2
Axis 6
0.015kg·m2

Positioning repeatability *4

X, Y, Z
±0.03mm
Input Signal for Hand
4 inputs, 4 outputs
Air Piping for Hand
φ4×4pcs.
Position Detection Method
Absolute encoder mode
Total Weight
25kg
Attached Cable
Standard: 5m
Controller
*1: Acceleration rates are limited depending on motion patterns, payload mass, and offset value.
*2: Under rated load.
*3: Continuous operation of standard cycle motion pattern is not possible beyond the effective load ratio. (Horizontal 300 mm, vertical 25 mm, round-trip, coarse positioning)
*4: When the environment temperature is constant.
TEL:
TOKYO MAIN BRANCH: 81-(0)3-3509-0270
NUMAZU HEADQUARTERS: 81-(0)55-926-5032