Vertical Articulated Robot TV800
Overview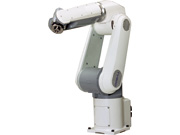 This is a high-speed vertically articulated robot with arm length 800mm.
It supports cleanroom design and waterproof design (-IP).
Operation in progress at our manufacturing plant.
TEL:
TOKYO MAIN BRANCH: 81-(0)3-3509-0270
NUMAZU HEADQUARTERS: 81-(0)55-926-5032
Specifications
Arm Length
Total Length
800mm
1st Arm
380mm
2st Arm
420mm
Reach
892mm
Working envelope
Axis 1 (J1)
±170°
Axis 2 (J2)
-100 ∼ +150°
Axis 3 (J3)
-127 ∼ +167°
Axis 4 (J4)
±190°
Axis 5 (J5)
±120°
Axis 6 (J6)
±360°
Maximum speed *1
Axis 1 (J1)
237°/s
Axis 2 (J2)
240°/s
Axis 3 (J3)
288°/s
Axis 4 (J4)
350.5°/s
Axis 5 (J5)
484°/s
Axis 6 (J6)
576°/s
Composite *2
8.06m/s
Standard cycle time *3
Horizontal: 300mm
Vertical: 25mm
0.4sec
Load
Maximum payload *1
5kg
Allowable moment of inertia*1
Axis 4, 5
0.3kg·m2
Axis 6
0.05kg·m2
Positioning repeatability
X, Y, Z *4
±0.02mm
Input Signal for Hand
8 inputs, 8 outputs
Air Piping for Hand
φ6×3pcs.
Position Detection Method
Absolute encoder mode
Total Weight
45kg
Attached Cable
Standard: 5m
Controller
*1: Acceleration rates are limited depending on motion patterns, payload mass, and offset value.
*2: Under rated load.
*3: Continuous operation of standard cycle motion pattern is not possible beyond the effective load ratio. (Horizontal 300 mm, vertical 25 mm, round-trip, coarse positioning)
*4: When the environment temperature is constant.
TEL:
TOKYO MAIN BRANCH: 81-(0)3-3509-0270
NUMAZU HEADQUARTERS: 81-(0)55-926-5032