BA-ⅡControllers (Master Unit)
Master Unit CA20-M10, M40
Overview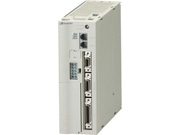 * Used as the master unit for single-axis control and orthogonal (or cartesian) two-axis control.
* Easy teaching is possible by a program which is created by using the ROIbot language.
* For the supply power, multi power (AC100 V-120 V, 200 V- 240 V) is used to cope with globalized production.
* The pulse train input mode is provided as the special function of the master unit, which allows control of axis travel distance and speed by pulses supplied from an external pulse generator.
* The multitask function (No. of controlled axes: 4) is also available, which allows execution of up to four tasks in the sequential mode, two or more jobs can be executed at the same time.
TEL:
TOKYO MAIN BRANCH: 81-(0)3-3509-0270
NUMAZU HEADQUARTERS: 81-(0)55-926-5032
Specifications
Type of controller
CA20-M10
CA20-M40
(Note 1)
No. of controlled axis
1-axis control or simultaneous 2-axis control by connecting a slave unit.
Motor capacity (W)
50
100
200
400
Drive system
AC servo motor
Control system
PTP, semi-closed loop control
Teaching method
Remote teaching, direct teaching or MDI
Speed setting
10 step (variable)
Acceleration setting
20 step (variable)
Operation mode
Sequential (multitask), palletizing, external point designation, easy
Operation method
Step, continuous, single
CPU
32-bit, RISC SH7145
Self-diagnosis function
CPU down, memory error, driver error, master power voltage error,
program error, etc. by watchdog timers.
No. of programs
Sequential: 8, Palletizing: 8
No. of program steps
Max. 2000 steps (Total No. of tasks) + Coordinate table (999 per each task) × 4 (When
slave unite is connected)
Memory
FRAM
No. of counters
99
No. of timers
9
Alarm display
Error indicator lamp ON (on front panel) and teach pendant display
External input
4-system input and 4-general-purpose inputs
External output
4-system output and 4-general-purpose outputs
Communication function
For teach pendant × 1 channel (RS-232C)
Power supply
AC100V ∼ 120V, AC200V ∼ 240V, ±10% 50/60HZ
Changeover of 100V or 200V circuit by short-bar on front terminal block.
AC200V ∼ 230V,
±10% 50/60Hz
Power capacity
(per 1-axis) (VA)
100
160
450
700
Noise conditions
1500Vp-p, pulse width 1μs (by noise simulator)
Ambient conditions
Room temperature 0 - 40°C, humidity 30% - 90% RH, non-condensing and no corrosive gas present.
Dimensions
55 (W) × 160 (H) × 134 (D)
(excluding metal fixtures)
85 (W) × 160 (H) × 134 (D)
(excluding metal fixtures)
Mass (kg)
0.93
1.36
Note 1: When using CA20-M40, be sure to use regenerative discharge unit ABSU-4000.
TEL:
TOKYO MAIN BRANCH: 81-(0)3-3509-0270
NUMAZU HEADQUARTERS: 81-(0)55-926-5032