BA-Ⅱ Controllers
Slave Unit CA20-S10, CA20-S40
Overview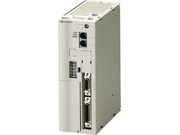 Used as an auxiliary unit when controlling the master unit or high-performance master unit. A driver unit for one axis control is built in this unit.
TEL:
TOKYO MAIN BRANCH: 81-(0)3-3509-0270
NUMAZU HEADQUARTERS: 81-(0)55-926-5032
Specifications
Type of controller
CA20-S10
CA20-S40
(Note 1)
No. of controlled axis
1-axis control by connecting with a master unit.
Motor capacity (W)
50
100
200
400
Drive system
AC servo motor
Alarm display
Error indicator lamp ON (on front panel) and
teach pendant display (connected with a master unit)
External input
8 points
External output
8 points
Power supply
AC100V ∼ 120V, AC200V ∼ 240V, ±10% 50/60Hz
Changeover of 100V or 200V circuit by short- bar on front terminal block.
AC200V ∼ 230V, ±10% 50/60Hz
Power capacity
(per 1-axis) (VA)
100
160
450
700
Noise conditions
1500Vp-p, pulse width 1μs (by noise simulator)
Ambient conditions
Room temperature 0 - 40°C, humidity 30% - 90% RH, non-condensing and no corrosive gas present.
Dimensions
55 (W) × 160 (H) × 134 (D)
(excluding metal fixtures)
85 (W) × 160 (H) × 134 (D)
(excluding metal fixtures)
Mass (kg)
0.91
1.34
Note 1: When using CA20-M40, be sure to use regenerative discharge unit ABSU-4000.
TEL:
TOKYO MAIN BRANCH: 81-(0)3-3509-0270
NUMAZU HEADQUARTERS: 81-(0)55-926-5032