Cartesian Coordinate Robot Applications
Parts Supply
Layout

Outline of operation
Aligns the parts fed from the part feeder on the conveyer to supply them.
Target user
Auto parts manufacturer, home appliance maker
Palletizing
Layout

Outline of operation
This system supplies the workpieces from a conveyer to a partitioned box.
Target user
Semiconductor industry, medical equipment manufacturer
Sealing Cell
System configuration

Layout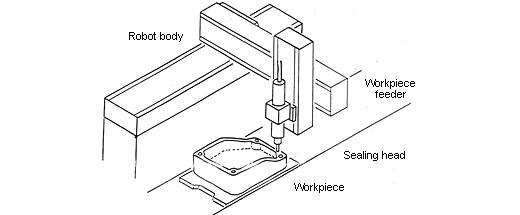 Outline of operation
Makes a Cartesian Coordinate Robot have a dispenser pump for sealing to automate sealing. Since the robot repeats a 3-dimensional movement accurately in this system, coating position and amount is stable compared to conventional manual operation.
Target user
Auto parts manufacturer, home appliance maker