TUE series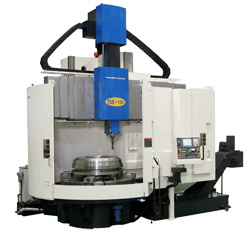 Main features
Rigidity and accuracy of main components of our TUE series are the essense of high quality.
Robust and high quality cast iron components of TUE series assures high rigidity and accuracy of the machine.
Wall type column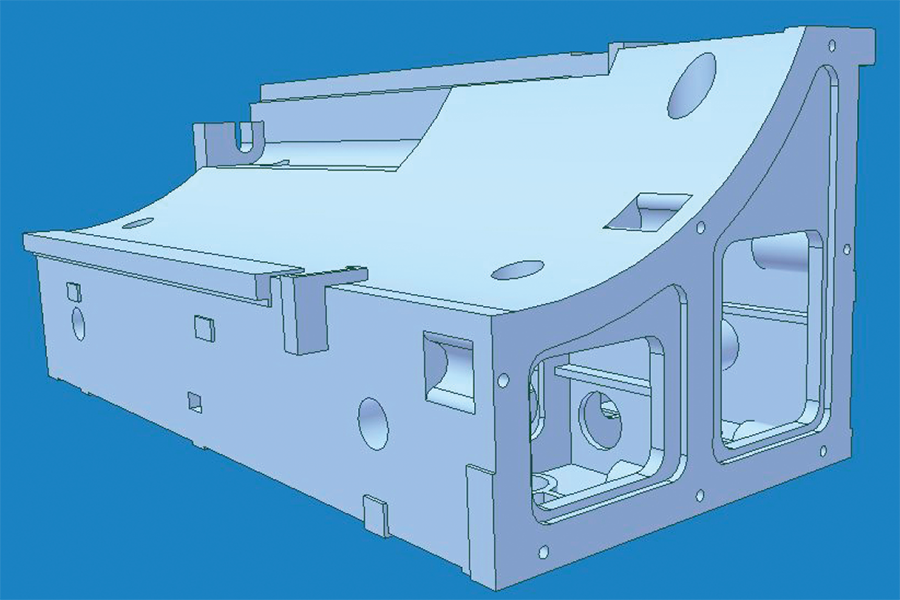 The extended width of the crossrail support side, delivers & robust and strong combination including a larger column cross section is comparison to previous TUE model
One-body cross rail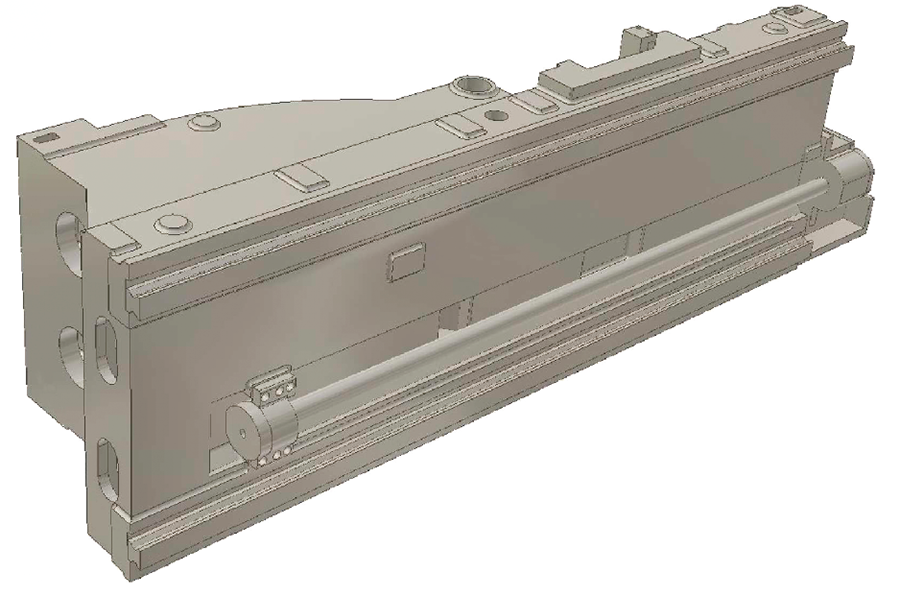 Rigidity of one-body construction goes up 50% higher than previous TUE model.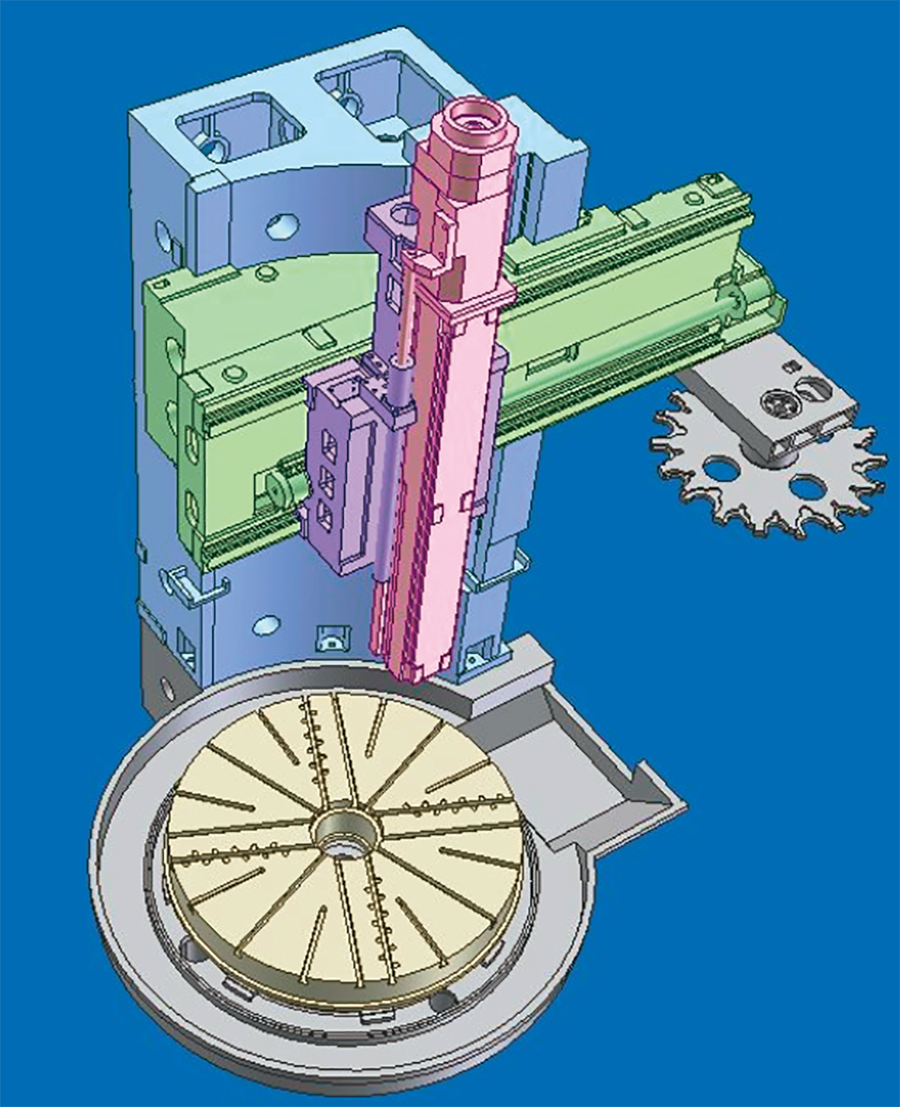 Cutting force which are absorbed by the ram are transferred efficiently through a one-body crossrail and "unique" wall type column design that extends to the center of the table.
This structure assures high rigidity and high accuracy of the machine.
The table supported by two bearings assures stable and high-speed powerful cutting even when machining a large diameter work piece.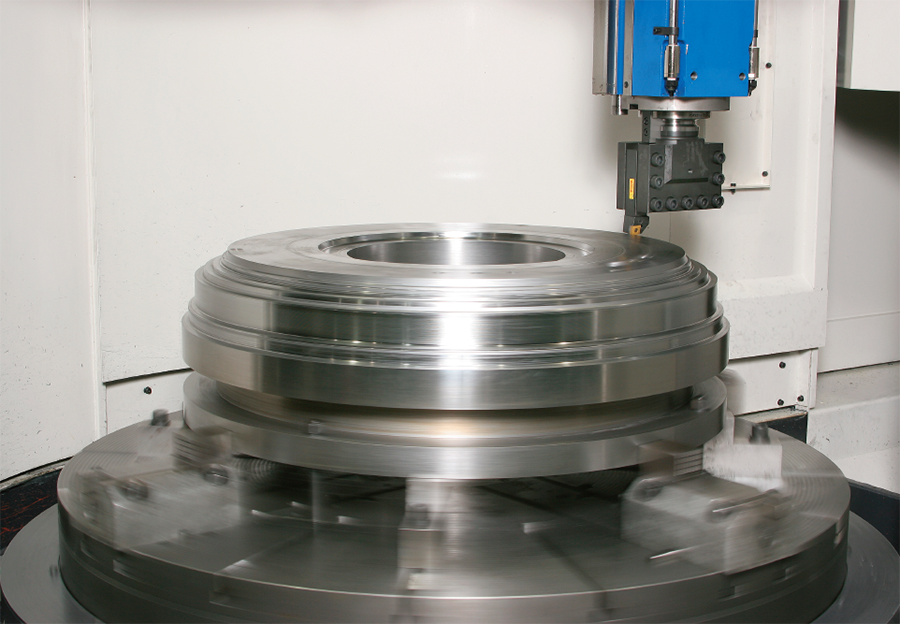 T-slots incorporated on the table top, are used to guide four independent manually-operated jaws and to clamp a workpiece.
The bed made of cast iron has rationally arranged ribs for rigid table support. The rear side of the bed is connected with column and contain a main gear drive system.
Maximum load on table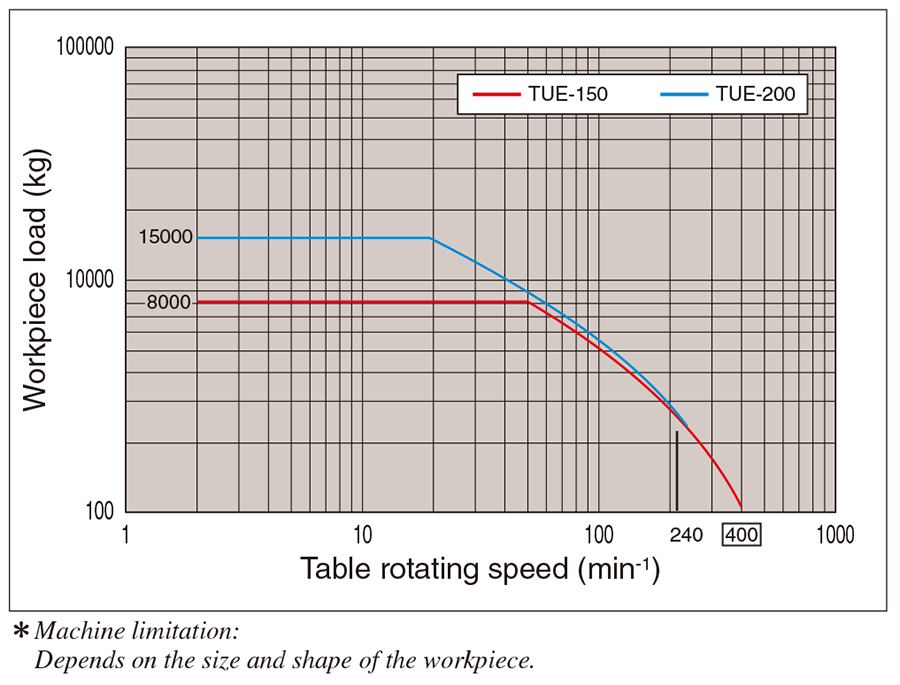 Table torque (TUE-150)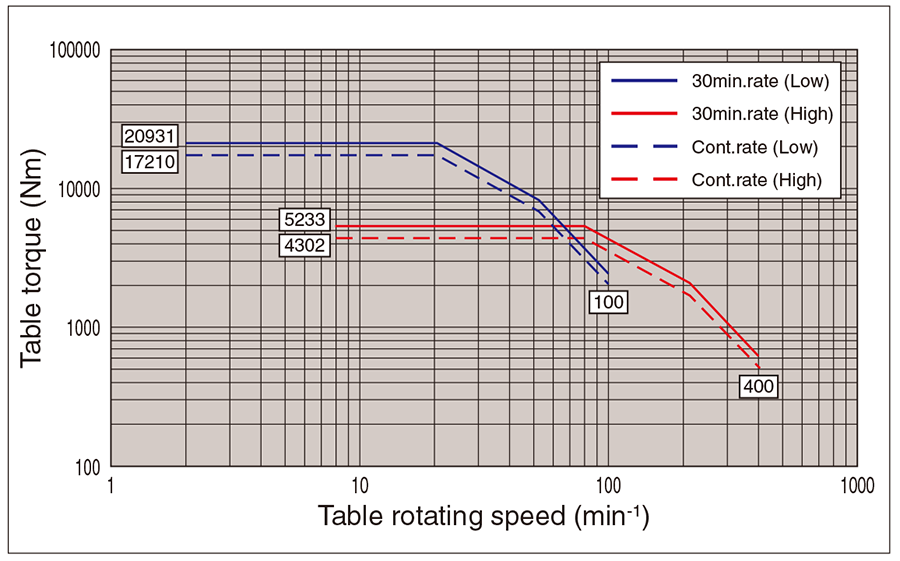 Table torque (TUE-200)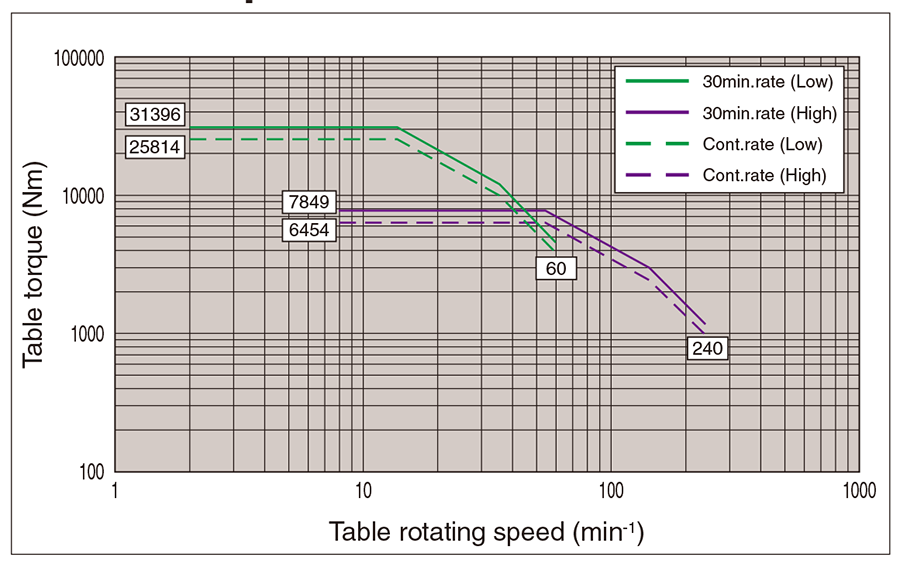 Rail head for improved machine performance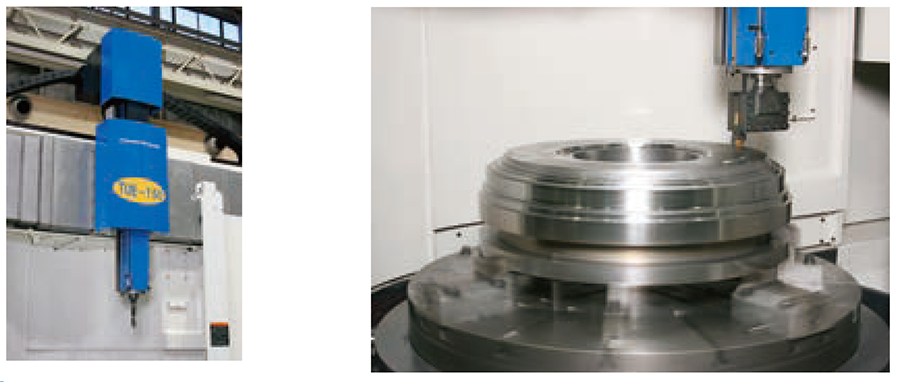 The rail head is positioned horizontally (X-axis) and the ram vertically (Z-axis) by means of largediameter ball screws of which each is supportedby special angular contact ball bearings. The Xaxis slideways consists of linear rolling guides and the Z-axis slideway is composed of nonmetallic liners to assure high positioning accuracy, high axis feed and heavy-duty operations.
Tool can be clamped/unclamped automatically in the spindle (ISO taper No.50) with the collet type pull stud and the spindle is driven by the AC type motor located at the top of the ram.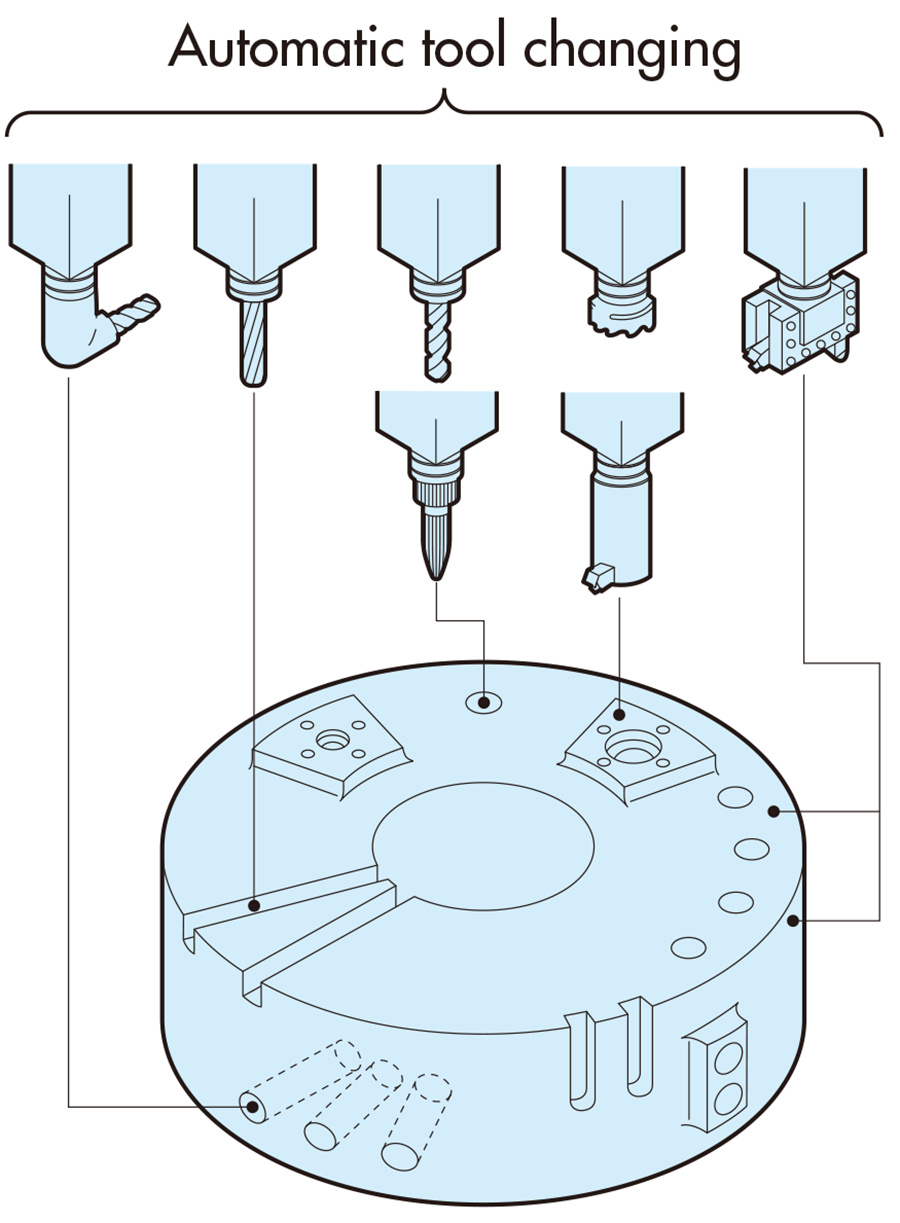 TUE-(S) type machine equipped with a live spindle reduces the amount of setups, in order to achieve a more efficient process.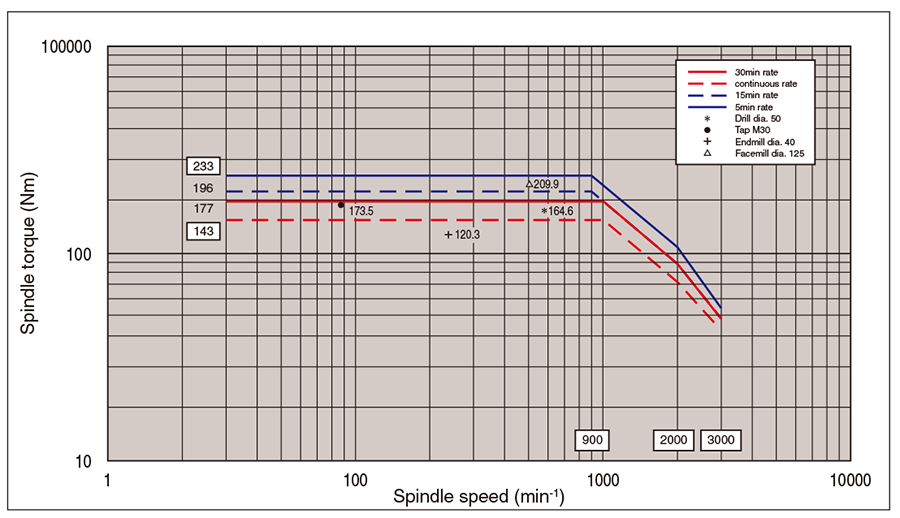 Live Spindle torque diagram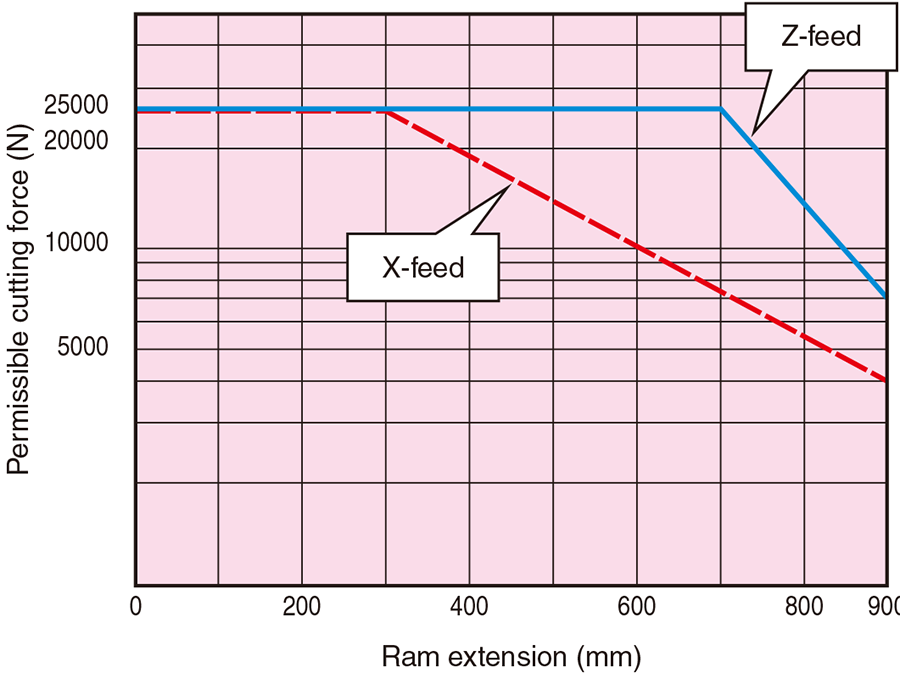 Cutting force diagram (Turning)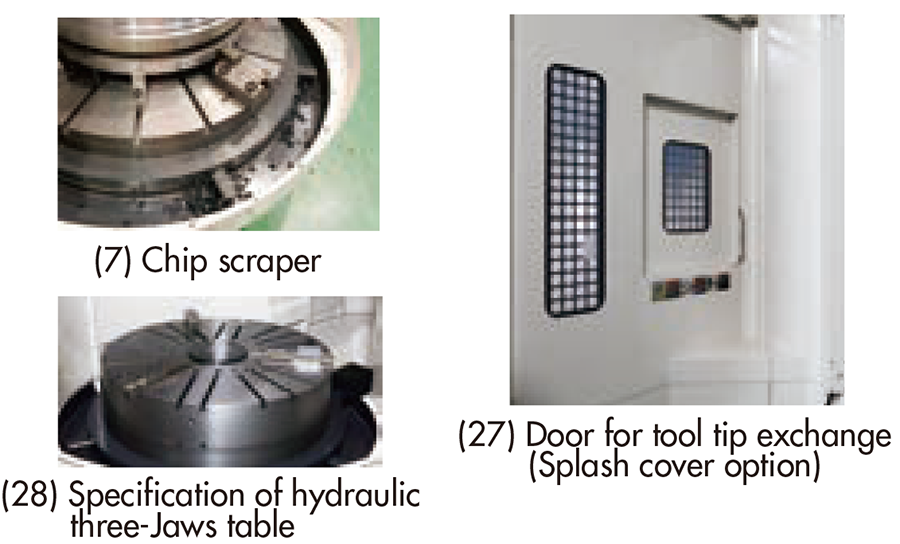 Standard accessories

(1) Installation parts 1 set
(2) Special service tools 1 set
(3) Automatic slideway lubricating unit 1 set
(4) Crossrail elevating device 1 set
(5) Four (4) independent manually-operated jaws 1 set
(6) Steel telescopic crossrail slide cover 1 set
(7) Splash cover 1 set
(Height between table-top to cover top: 1775 mm [69.9 inch]

Turning basic package

(1) Automatic tool changer (ATC)
Tool storage capacity : 18 tools (6 tools for turning, 12 tools for milling)
Total tool weight : 360kg [794 lb]
Tool changing time (*Note 1) 30sec Note 1 : Tool-to-tool time.
Type of tool shank for turning : 7/24 taper No.50 and flange
(double face contact type)
for milling 7/24 taper No.50 (*Note 1)
Type of pull stud : 50PU (1-8UNC) (JIS B 6339-1992)
Maximum tool size : 400W×150T×500L mm
[15.7W×5.9T×19.7L inch]
Maximum tool weight : 50 kg (110 lb)
Method of tool selection : Soft tool pot address
(2) Work light (LED) : 10 W
(3) Operator call lamp
This lamp is mounted on top of the arm right side.
Green : Illuminated during automatic operation.
Yellow : Illuminated when M00, M01, M02, M30 or M52 has been
executed.
Red : Illuminated at NC alarm or machine alarm generation.
(4) Table lubricant oil cooling unit
(5) Automatic power OFF
(6) Chip conveyor with tank / coolant unit
Used to discharge chips recovered by the chip scraper from the machine.
Not available to operate by inputting M-code (only manual push button).
Coolant tank capacity : 400 L [105.7 gal]
Standard type : Motor : AC 4P, 0.2kW [0.27 HP]
(7) Chip scraper
Used to discharge chips from around the table.
Available to operate by inputting M-code and manual push button.
Drive motor : AC 4P, 0.4 kW [0.54 HP]
(8) Additional table center hole and tap hole
Table center hole for fixture : Dia. 100 mm [3.94"]
Tap size : M24×pitch 3.0

User Option
9) High type column+300mm [11.81"]
(10) Long type ram+350mm [13.78"]
(11) Dia. 1600 mm [63"] table specification (for TUE-150)
Maximum rotating speed is limited to 320 min-1.
(12) High type independent manually-operated jaw set (4 pieces)
(13) Separate type independent manually-operated Soft jaw set (4 pieces)
(14) Separate type independent manually-operated Hard jaw set (4 pieces)
(15) Special stroke type independent manually-operated jaws set (4 pieces)
Jaw stroke : 100 mm [3.94"]
(16)Tool holder (see below)
(17) X-axis linear scale feedback
(18) Automatic radius and step difference measuring device
(with automatic tool compensation function)
(19) Automatic tool tip measuring device
(20) ATC jib crane
This is the jib crane for lifting a TUE(S) tool holder.
Maximum lifting load : 50 kg (110lb)
(21) Heavy duty type chip conveyor
Motor : AC 4P, 0.4 kW [0.54 HP]
(22) Chip Bucket
(23) Through spindle type coolant function
(24) Customer specified painting color
(25) Specification which a table and a live spindle rotate simultaneously
(M34-Mode)
(26) The function which displays the position of crossrail
(27) Door for tool tip exchange (Splash cover option)
(28) Specification of hydraulic three-Jaws table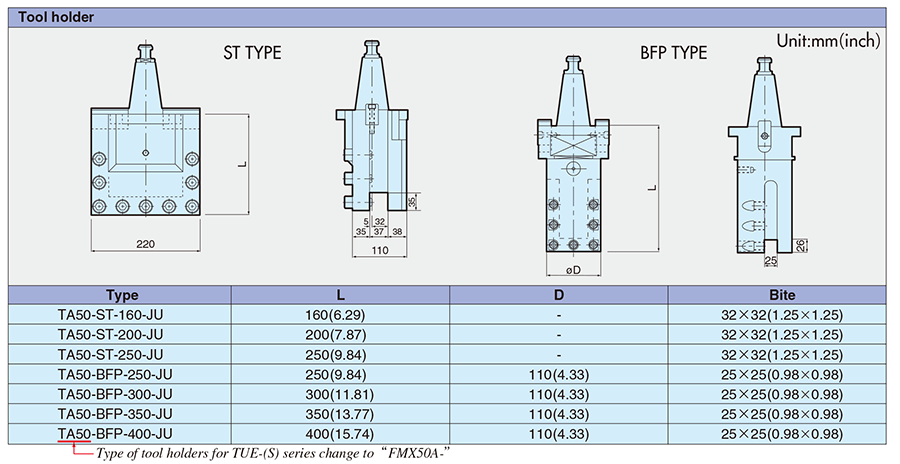 Rigid table construction for more efficient machining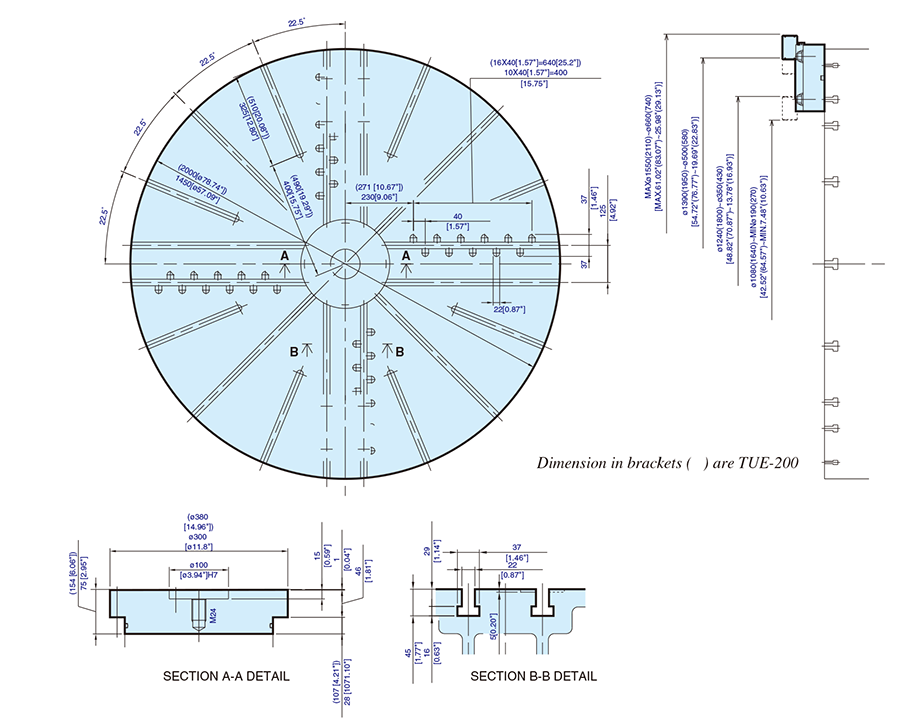 All of the major machine components are constructed of high-grade castings.
The table has been provided with ample strength and size.
The table is provided with ample strength and size and supported on a large-diameter thrust ball bearing and tapered roller bearing.
This construction brings sufficient performance of high speed and heavy machining with extremely high efficiency.
In addition, the table is equipped with 4 independent manually-operated jaws and T-slots which guide and hold workpieces in required position so accurately.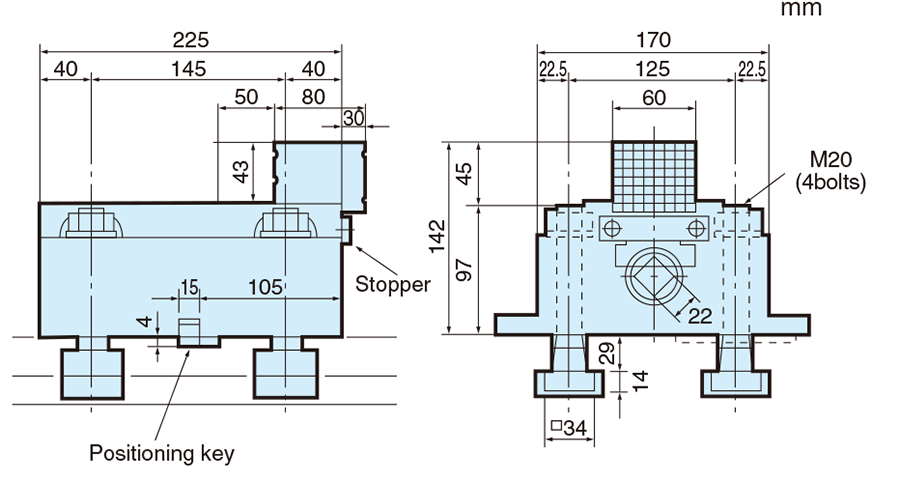 Independent manually-operated jaws Four jaws with the following specifications are
supplied as standard accessories. Maximum clamping force : 4metric tons (8800lbs)
(clamping torque 441 N-m [325ft-lbs]) Weight (one jaw) : 28kg (61.6lbs)
Maximum machining range

Machine Specifications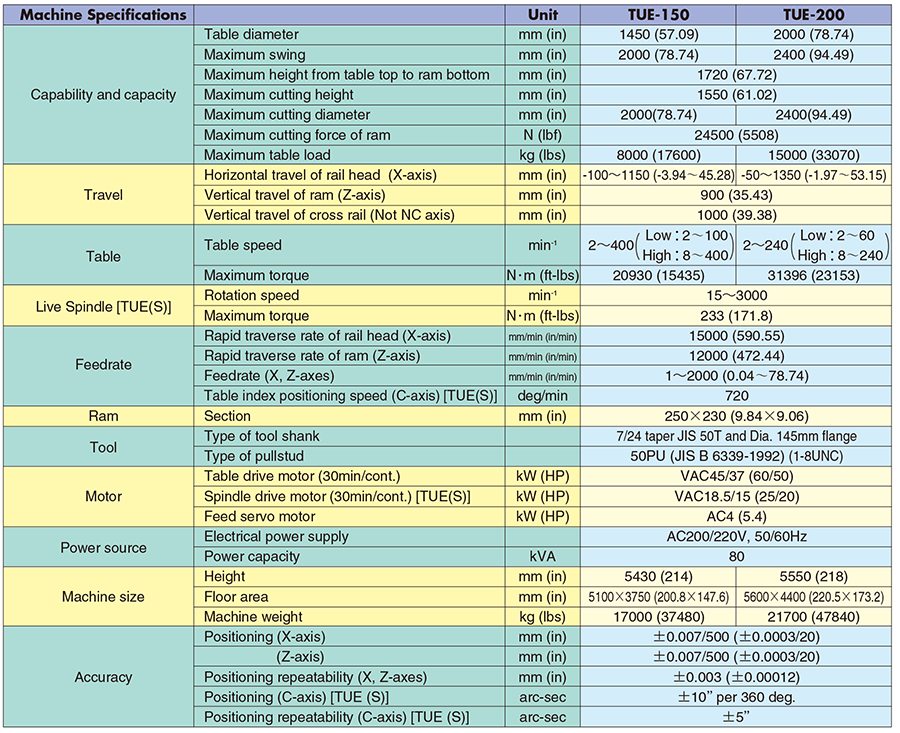 General view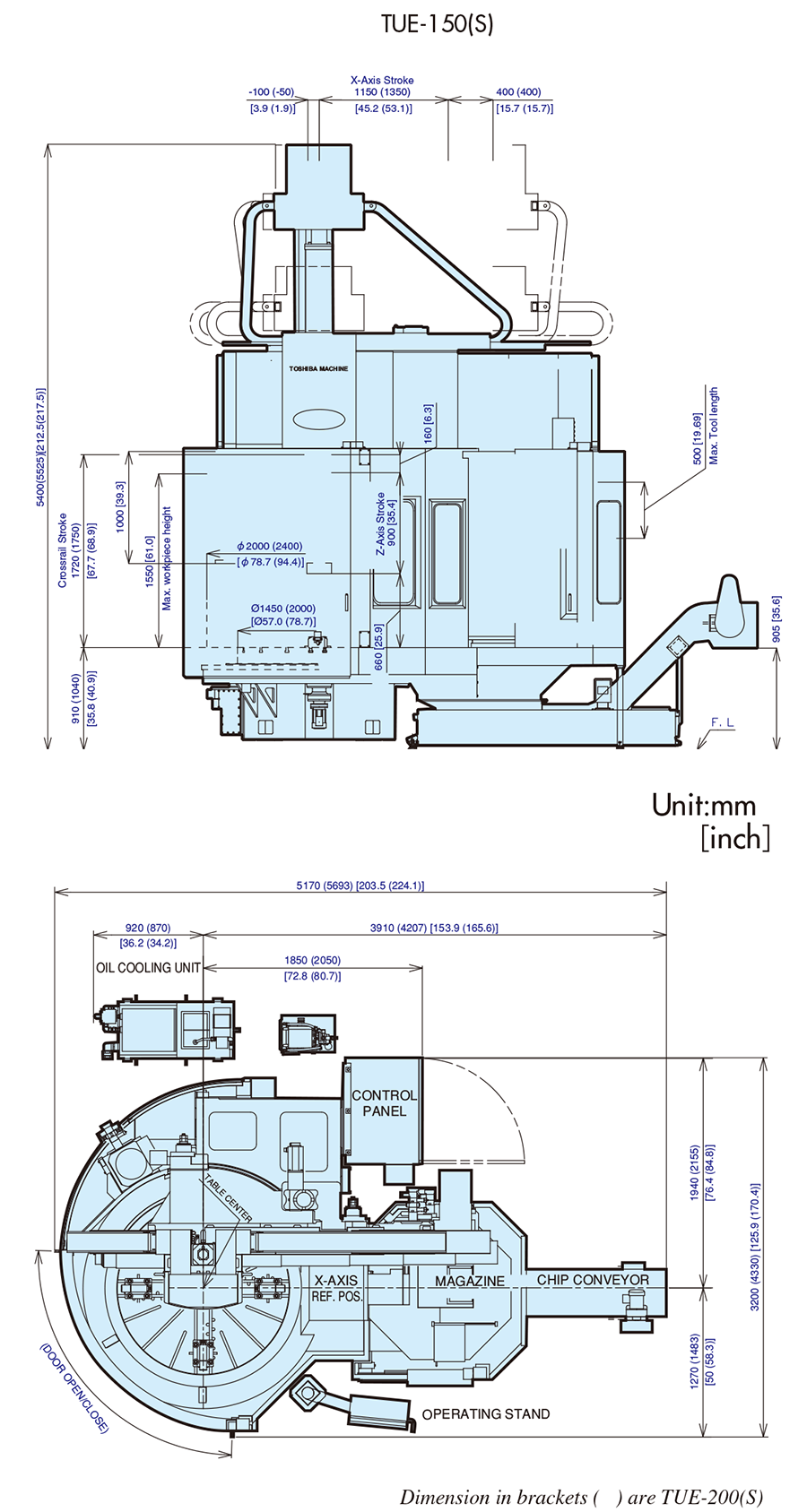 CNC system FANUC Series Oi-TF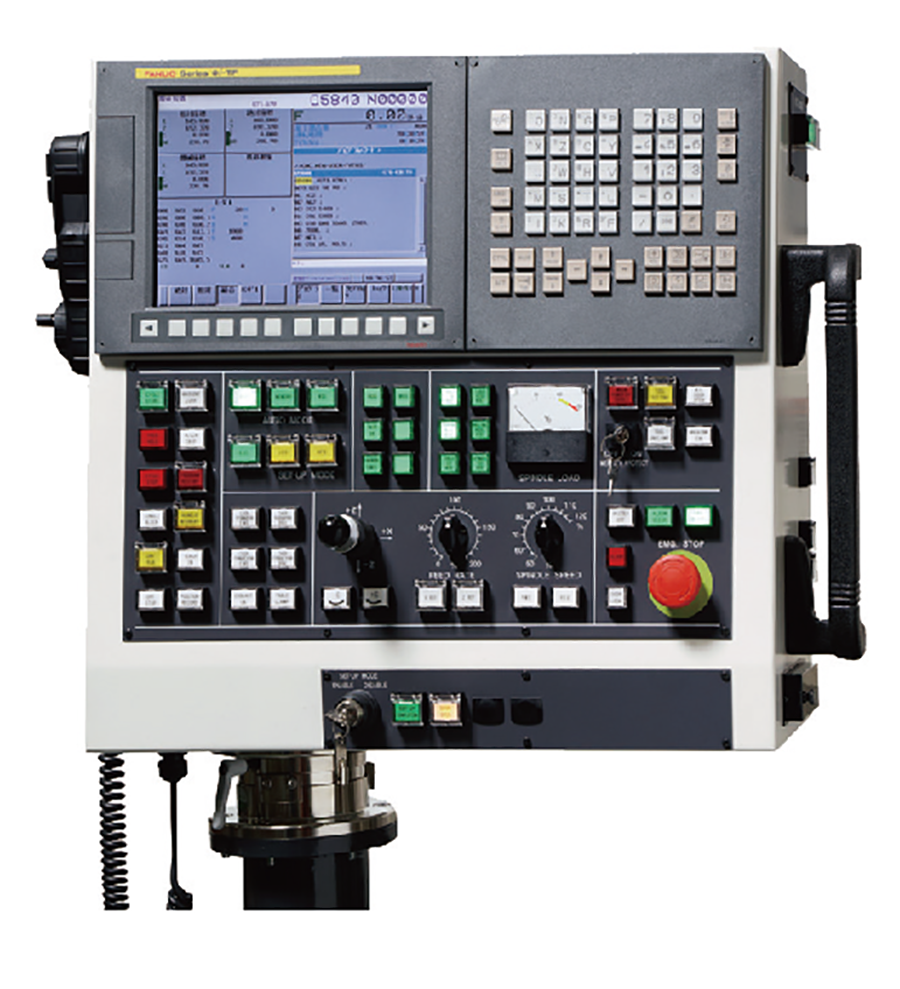 CNC FANUC Series 0i-TF
Most advanced CNC controller of FANUC series 0i-TF is applid on the machine.
Most of functions including optional functions in Fanuc's classification are specified as standard.
In addition to common operational functions, the machine is provided with such oprator friendly functions as help function, alarm display, and display of operation status to assist operator.
Manual operation
The "TUE series machine can be operated in manual very easily, in addition to automatic operation.
Many opration buttons to be used in manual mode are located on the operation panel, which are "Table CW/CCW" including jogging, Feed selection switch for X and Z including jogging, "Table speed overrideswitch", "Feed override switch" "Operation mode selection buttons", and Manual pulse generator (MPG)".
General view and Machine Layout
Catalog