TSS-C series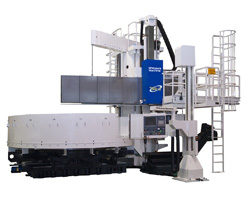 Main features
Main features TSS-C(S) model was developed with the addition of a live spindle and table indexing to the CNC vertical boring and turning machine of single column type
TSS-C(S) model also performs machining operations as boring, drilling and tapping
Table diameter/maximum swing assures stable machining even of large-diameter workpieces
TSS-C series preserves the best features of single-column machine. The stationary column and the moving table perform stable and accurate machining of large-diameter workpieces, larger the table diameter
Two super-precision roller bearings of table maintain excellent stability
The table supported by two roller bearings stabilizes heavy-duty machining operations at high speed even at machining of large-diameter work
Highly rigid roller type linear guides
Roller type linear guides are employed for the rail head guideway (X-axis) to assure smooth high-speed feed and micro feed. The positioning accuracy has also increased
Powerful, accurate and easy-to-operate.
Table
The table is suppoeted by a super-precision thrust cylindrical roller bearing and a tapered roller bearing, it maintains stable heavy-duty cutting operations at high speed even at machining of large-diameter helical gear under the table through a V belt and speed change gear train.Table speed change is performed by a two-range hydraulic shift and AC motor control.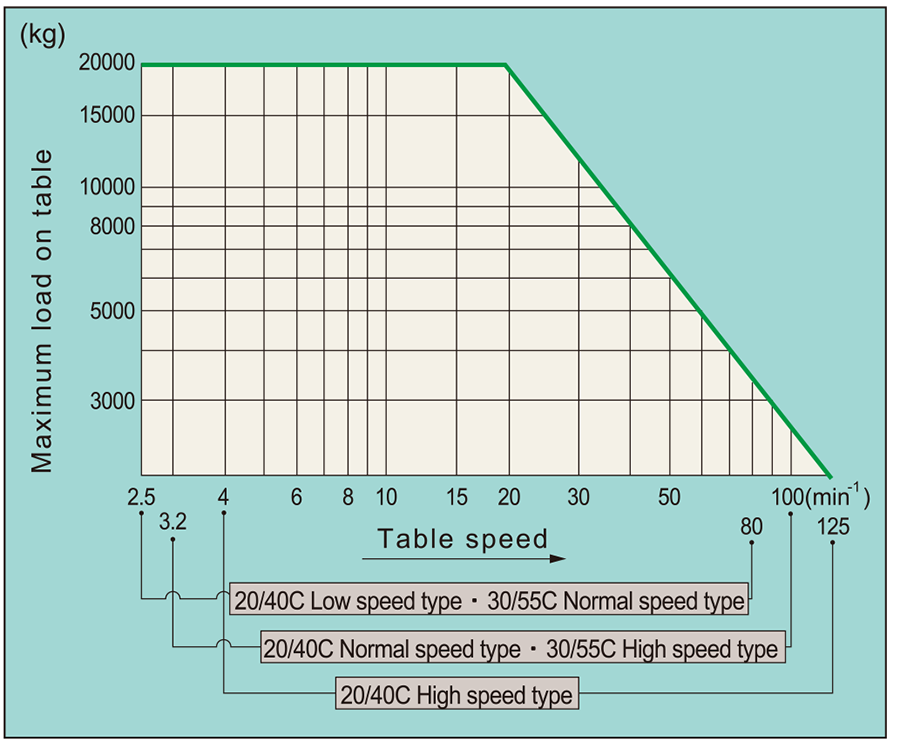 Maximum load on table(TSS-C)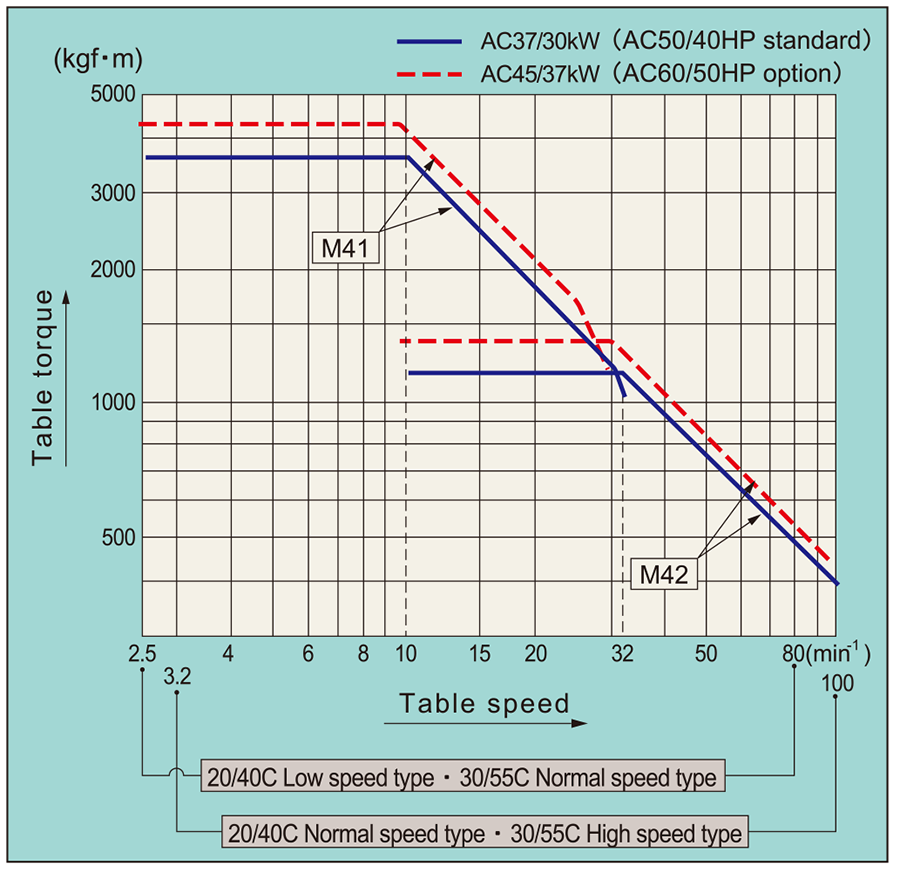 Table-torque diagram(TSS-C)
Column and arm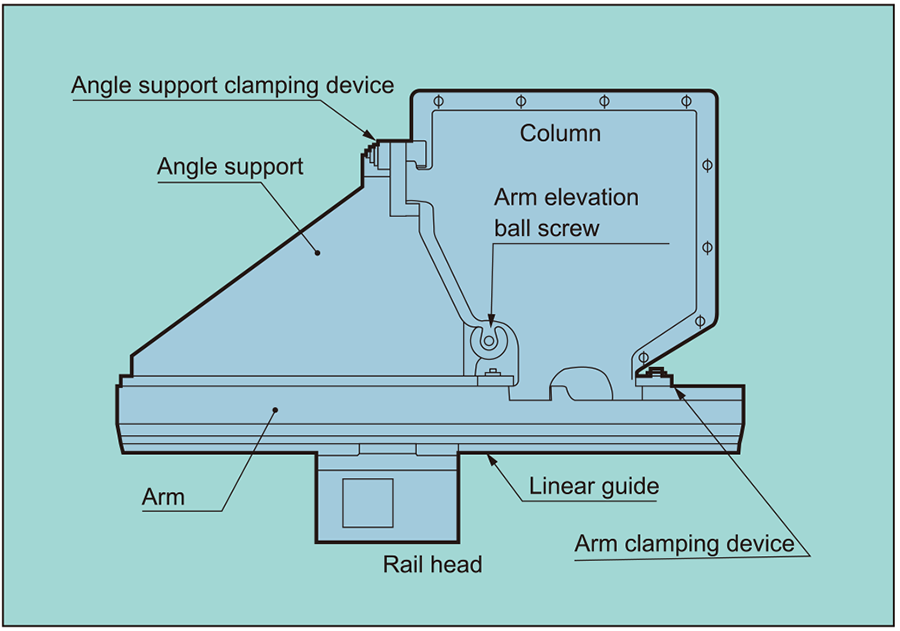 The thick-walled, well-ribbed and box-shaped column has a wide sectional area to assure high rigidity and supports the arm by three guideways, The arm, integrated with the rear angle support, transmits cutting reaction force exerted on the rail head to the column with high efficiency.
Closed type rail head
The maximum cutting force of the ram is more than twice that of our conventional machines even when the ram is extended to its maximum stroke. The maximum output of live spindle is 18.5kW(25HP). The closed type single-block constructed rail head enclosing a 250mm(9.84in) square ram and other main machine components made of high-grade cast iron all assure high rigidity and quality machining.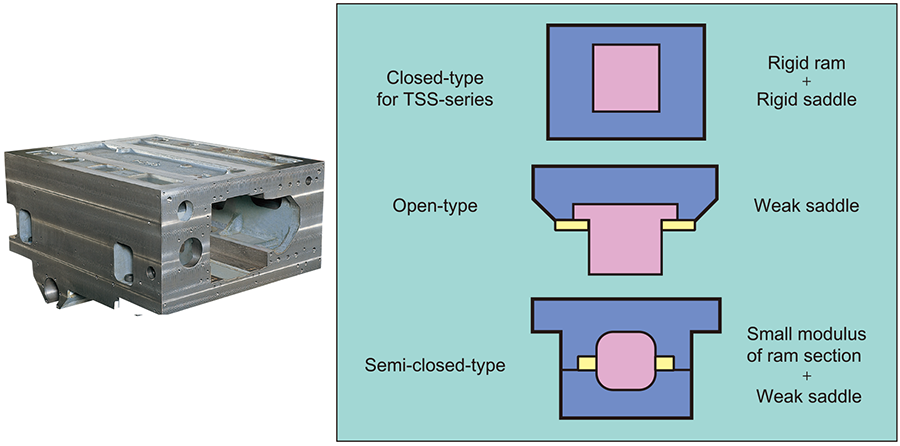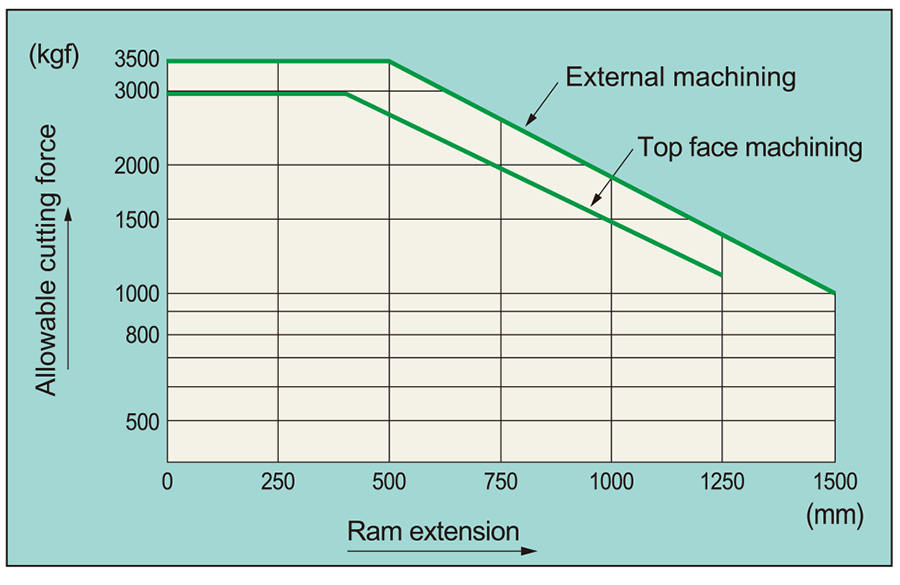 Ram cutting capacities(TSS-C)
Compensation device for straightness of rail head (patent pending)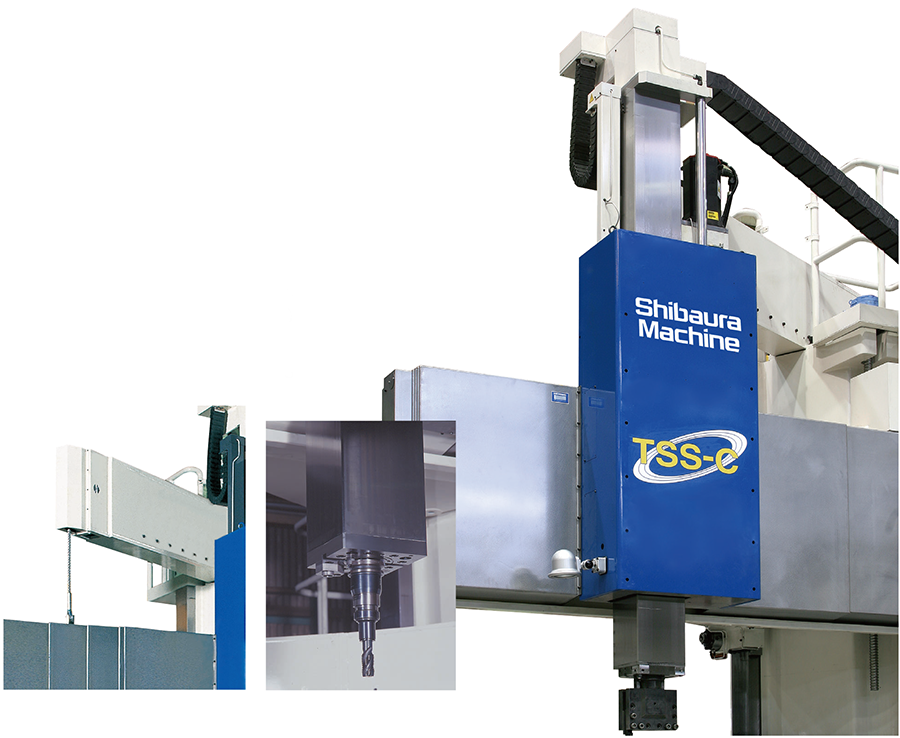 When incorporated in the machine, the compensation device for straightness of rail head travel(option) autommatically compensates arm deflection according to the rail head movement, Thus, more accurate working accuracies can be assured.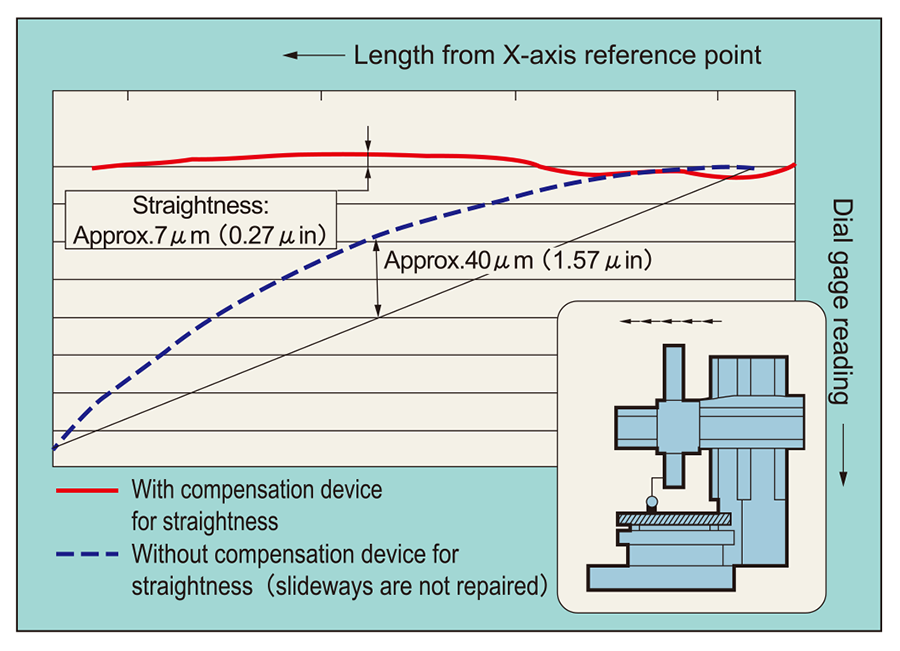 Straightness of rail head travel(X-axis)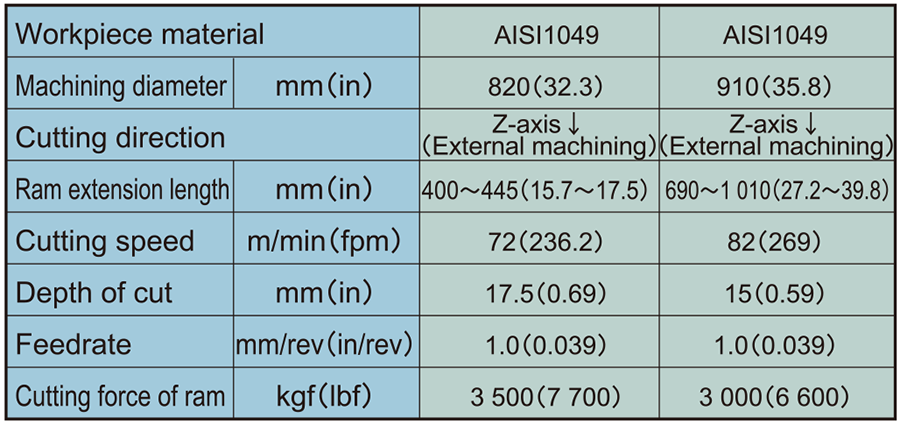 Example of machining data(TSS-C)
Standard Accessories
Installation parts 1set
Special service tools 1set
Automatic slideway lubricating unit 1set
Locally operated 4-jaw chuck(6ton) 1set
Automatic arm clamping devices 1set
Arm slide cover 1set
Table lubricant oil cooling unit 1set
Power table traverse device 1set
Automatic main power source OFF device 1set
Chip guard(removable sections) 1set

Height of chip cover from table top 750mm(29.5in)
Inner diameter of chip cover 20/40:Φ2600(102.4in), 30/55:Φ3650mm(143.7in)
Optional Accessories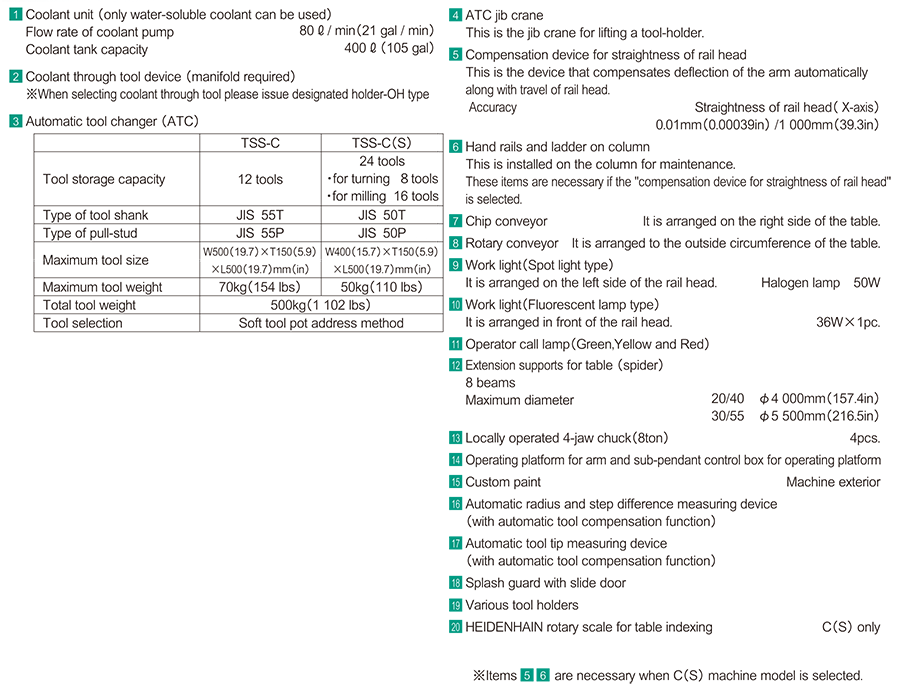 Machine dimensions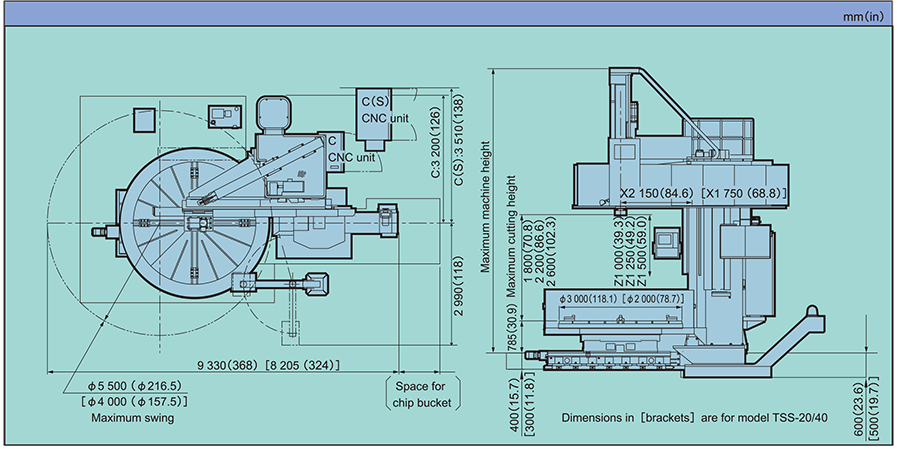 Machine Specifications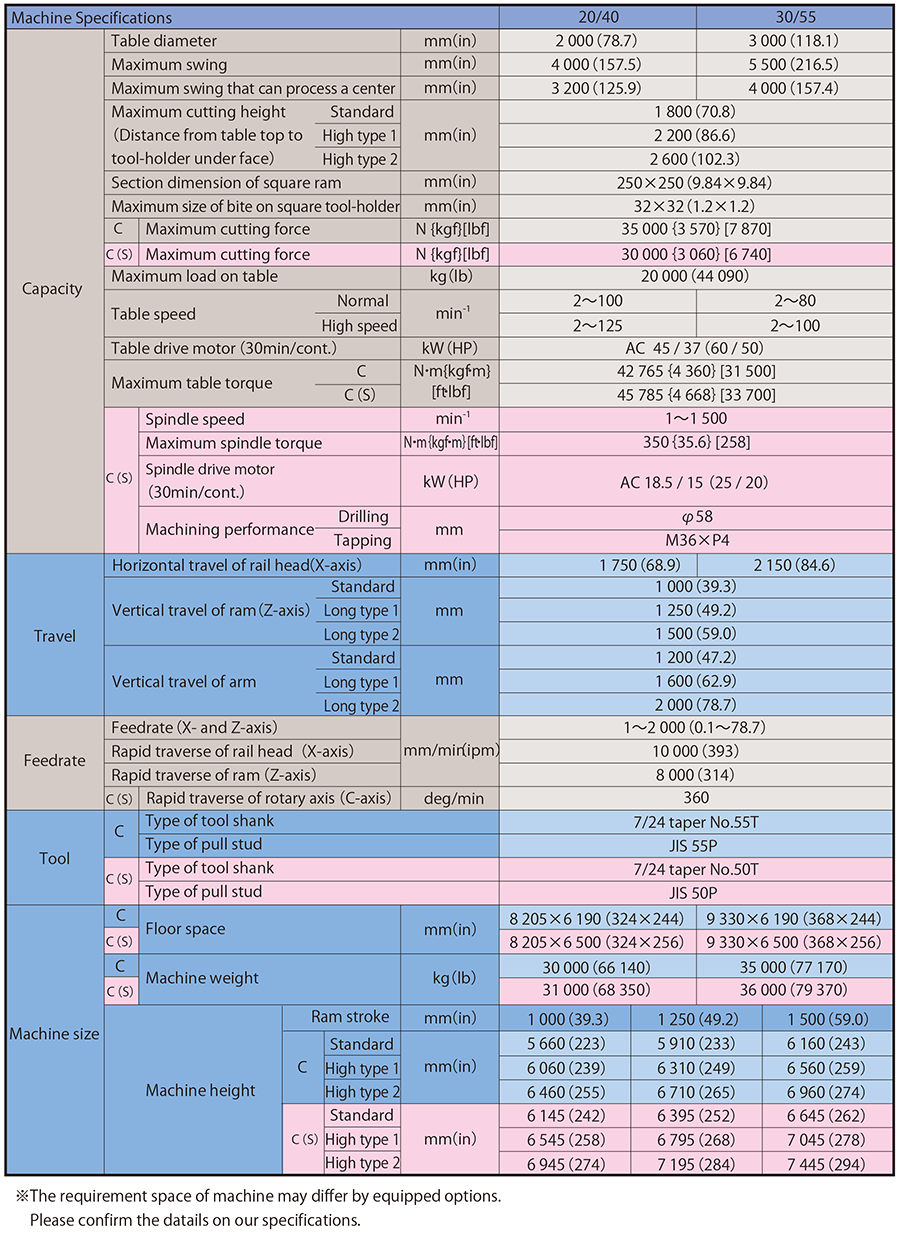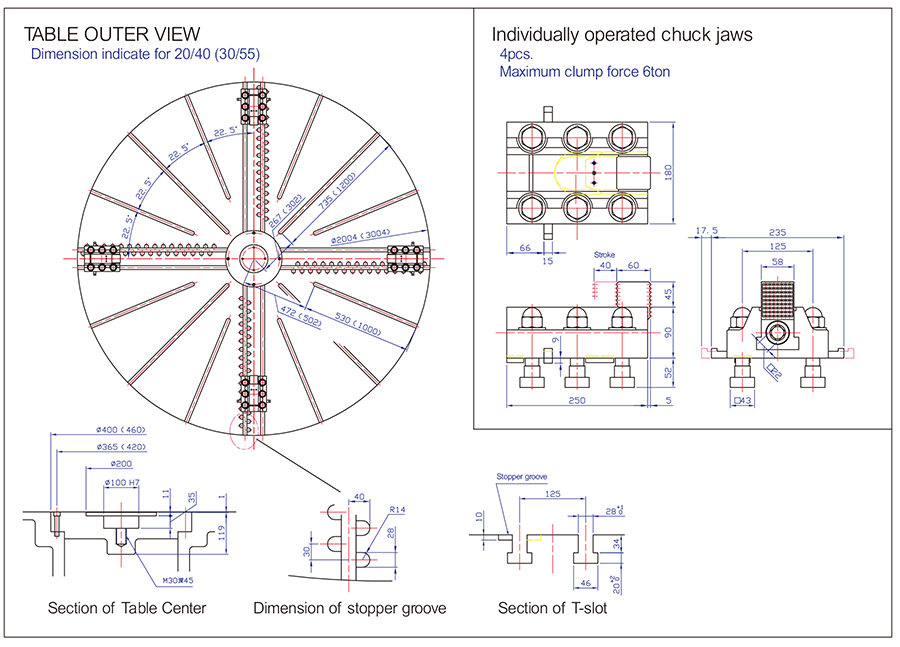 CNC system for enhanced productivity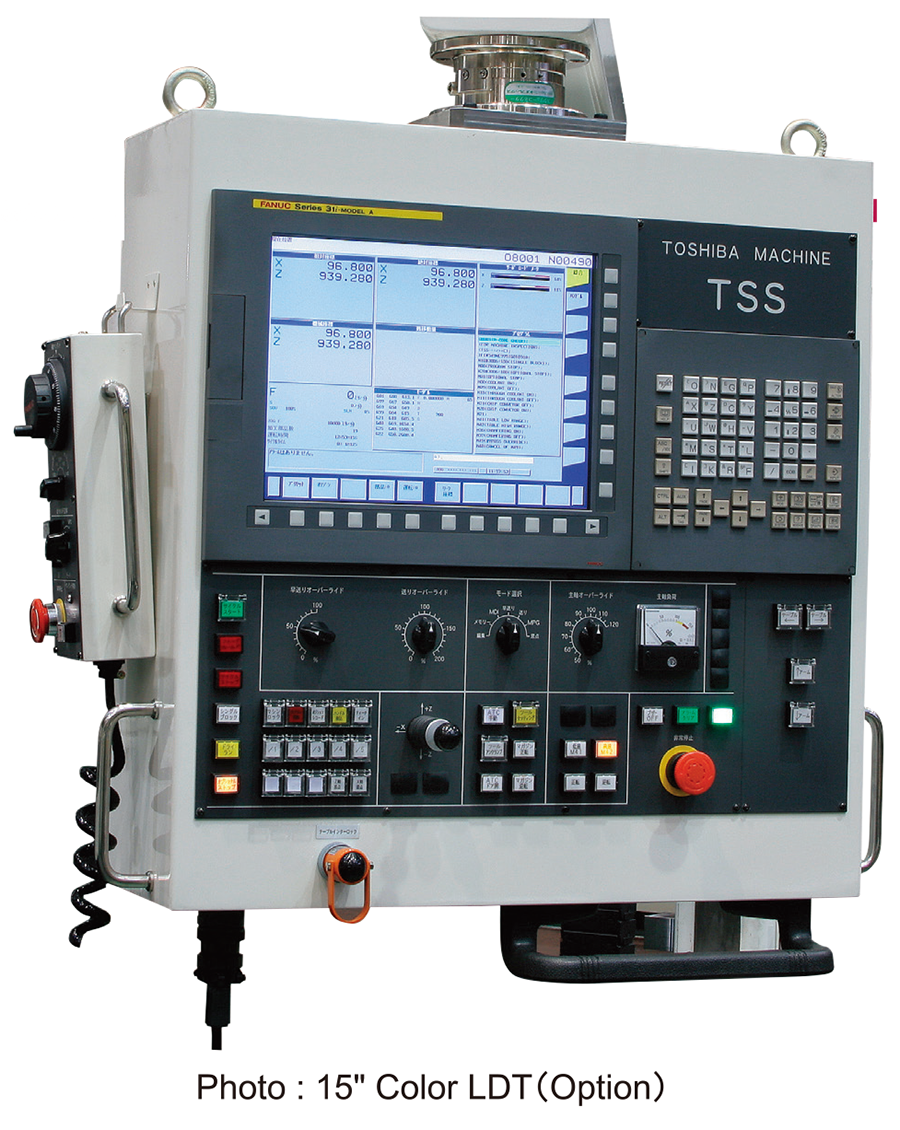 CNC FANUC Series31iA
An updated high-performance CNC FANUC Series 31iA is used as the NC system. In addition to the existing operating functions, the FANUC 31iA is complete with such display functions as help function, alarm/operation status display and servo/spindle waveform display(10.4" color LCD spec). Operability has also improved.
Manual operation
In addition to the CNC operation, the TSS-C machines can easily be operated manually, as required, through the pendant box which contains the necessary pushbuttons and other control switshes such as table forwaed/reverse, X-and Z-axis feed selector switches, table speed overeide switch, feedrate switch, feedrate override switch, operation mode selector switch and manual pulse generator(MPG). Just as in the conventional machines, efficient manual operations are possible, while observing the tool edge.
NC options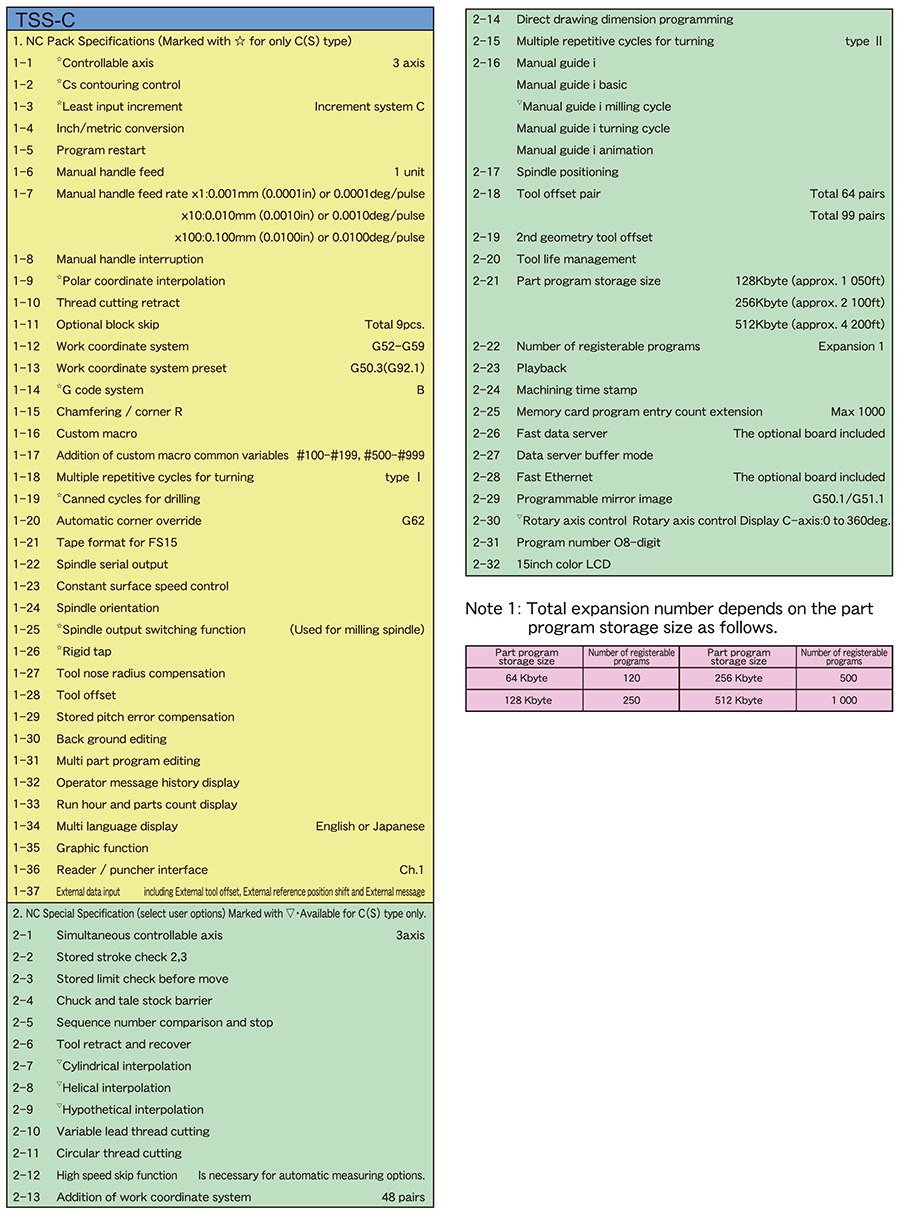 General view and Machine Layout
Catalog