Corporate Governance
Stock ticker code: 6104
Shibaura Machine respects human values as its fundamental policy. Our group's mission is to contribute toward building the foundation for industry by creating an abundance of values and helping to improve people's lives and cultural development across the world. We also have a responsibility to observe the law and act according to social and ethical principles as we engage in our business. We have therefore established the Shibaura Machine Group Standards of Conduct in order to formulate our corporate philosophy. Based on this philosophy and these standards of conduct, we have developed a corporate governance system which is highly transparent. We have achieved this by building a suitable system of internal controls based on our "Fundamental Policy of Internal Control", by setting up a "Nomination Advisory Committee" and a "Remuneration Advisory Committee" to enhance transparency and fairness in the nomination and remuneration of directors and auditors and, through the operation of our executive officer system, by realizing the separation of management and execution of business, the clarification of management responsibilities, and the enhanced efficiency and alacrity of management decision_making and business execution. We also have also a corporate system where an auditing officer works with accounting auditors and our internal auditing department to monitor company management. .
Corporate Governance System Outline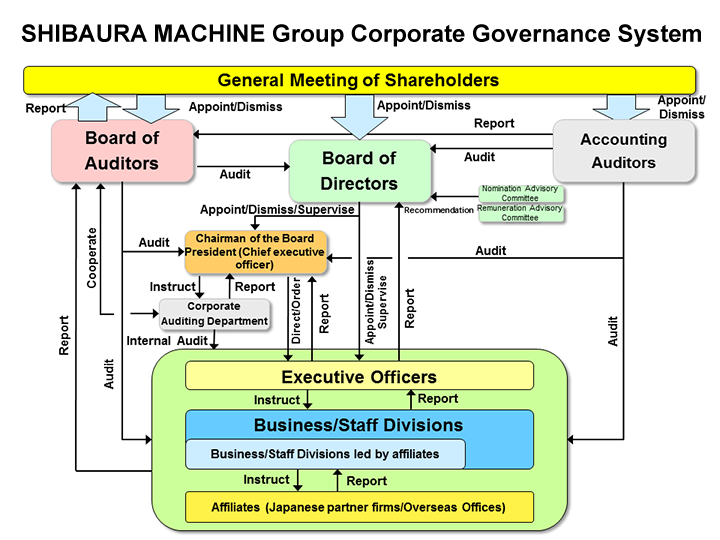 1. Board of Directors
The board of directors, consisting of 9 board members including 3 outside directors, holds regular monthly meetings, as well as special meetings when necessary. The purpose of the board is to discuss, decide, and report_upon issues prescribed by laws and our company statues, as well as those concerning key business operations. It also works to support the enhancement and effective operation of the company's internal control system. We have 3 outside directors designated as independent executives.As advisory organization to the board of directors, we established the Nomination Advisory Committee and the Remuneration Advisory Committee. The Nomination Advisory Committee deliberates human resource issues related to the selection of our directors, auditors and other important personnel, and the Remuneration Advisory Committee reviews issues relating to remuneration for directors and auditors. Both committees submit a report of their recommendations to the board of directors.
2. Management Strategy Meetings/Management Meetings
The company holds monthly management strategy meetings and management meetings to debate, decide, report, and establish the direction of management policy and strategy, as well as discussing, deciding, and reporting upon key issues relating to business operations. Outside directors attend these meetings as and when necessary.
3. Board of Auditors (effort to improve functionality of auditors)
We maintain a board of three company auditors, two of whom appointed from outside the company. Two of the three board members are standing statutory auditors who attend the important meetings described in above section 2, in order to give advice from an internal-control viewpoint, thus providing fair and objective observation of the directors' business practices. We have one standing statutory auditor who is an outside auditor and one outside auditor, both of whom are assigned as independent directors.
4. Internal Auditing Department
The corporate auditing department, which is an internal audit department, based on the annual audit plan, whether the company's business operations comply with relevant laws, company statues, management policies, and other regulations, and whether these business operations are being conducted effectively and in an appropriate manner. The department also points out problems from a managerial point of view and provides recommendations for improvements for the audited departments.
5. Accounting Auditor
Account auditing is outsourced to Ernst &Young Shin Nihon LLC in order to ensure a fair and suitable auditing process. We also receive advice from our corporate lawyers as necessary when decisions relating to legal issues must be made.