All Electric Injection Molding Machine EC-SXII Small-size series
Achieving high productivity and precise steady molding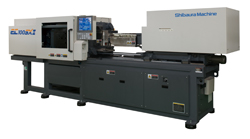 The EC-SXII series is a high performanceall electric injection molding machine that achieves "Precise and steadymolding" and "High productivity" by great improvement of thebasic performance given by newly developed mold clamping unit and injectionunit based on the concept similar to our previous EC-SX series.
You can select fromtwo controllers the "INJECTVISOR-V50" and "INJECTVISOR-S51".
V50 is a high performancecontroller having multiple molding functions and expandability.
S51 has addedmolding functions and improved production-managing functions compared to theprevious S50 controller.
Product Introduction
1) New mold clamping unit (Solid Clamp)
The device transforms uniform clamping force to the mold with newly designed toggle mechanism and improved rigidity, enabling molding by lower clamping force than conventional device. Moreover the device achieves high speed cycle of the industry-leading class.
New toggle mechanism: link line toggle + two piece platens
- Minimizes mold deflection and achieves uniform clamping force distribution.
- Enables molding even by clamping force lower than conventional unit and contributes to improve product quality and mold maintenance reduction.
Dynamic acceleration/deceleration control (Patent pending)
- Adopts acceleration/deceleration control to reduce shock at mold opening/closing.
- Enables maximum accelerate from an arbitrary position achieving high speed cycle molding.
High response ejection
- Sharp movement shortens ejection time.
Grease-less tie rod
- Grease-less tie rods eliminates grease adhesion onto mold or product and maintains clean environment.
- Standard rust proofing on the hopper inlet prevents mixing of rust or refuse into product.
SFC (high-speed mold open/close) specification (option)
- Shortens dry cycle time further and achieves molding at higher speed cycle.
2) New injection unit S-Cube (Simple, Steady, Smooth)
Takes over powerful filling performance in high speed and high pressure range and achieves steady molding by smooth movement.
Friction-free drive
- Suppresses slide resistance to the utmost limit and contributes to precise and steady molding by stable injection characteristic.
- Smoothes leading response of injection and improves charging stability.
- Reduces variation among molding machines.
Control accuracy improvement in injection pressure and back pressure
- Absorbs inherent characteristic of pressure detector by linearize correction control, to lose machine difference to the utmost limit. This improves control accuracy of injection pressure and back pressure and achieves one up steady molding.
Ultra-high speed and high-pressure injection specification (option)
- Achieves ultra high-response injection by a combination of newly developed low inertia /high response servomotor and direct drive mechanism.
Achieves high productivity and precise stability by great improvement in control performance.
High performance HMI (Human-Machine Interface)
- 15-inch large-scale panel facilitates visualization and improves operability. *Takes over the function of INJECTVISOR-V30.
- Enables data browsing or printing on the personal computer by means of USB thumb drive or iPAQET LiTE.
Wide split screen
- Displays information necessary for the process on a split screen independent of the setting screen. This minimizes the changing of setting screen.
Signal customizing function
- Enables arbitrary selection of output signal to peripheral equipment.
- Allows each selection of output condition or output form.
Remote monitor/managerial system "iPAQET"
- Monitors and manages multiple molding machines in real time by using LAN line. Enables centralized management on wide range of information including the monitoring of operational condition of the machine and resin lot in addition to the monitoring of production state or the accumulation analysis function of product quality data.
Enables plug-in of peripheral and rationalization equipments and facilitates integrated management including rationalization equipments.
Achieves high productivity and precise stability by great improvement in control performance.
Improvement in high-speed control by 40%
- Enables minimizing the variation in shift to hold positions.
High performance HMI (Human-Machine Interface)
- 10.2-inch color display providing simple image
- Supporting Japanese, Chinese, English, Thai, Indonesian and Vietnamese
5) Molding control (DST: Dynamic Self Tuning)
Automatic correction function is added to molding control. This contributes to reproducibility of high-precision molding and long-term steady molding.
DST-Press (clamping force correction)
- Does not generate sink mark or short shot (influence of gas vent) as a result of clamping force fluctuation.
- Automatic correction made during molding does not influence operation cycle while maintaining steady molding.
DST-Fill (molding condition correction)
- Conducts automatic change of molding conditions and maintains steady molding, against the variation of molded product quality that takes place in a long period of operation as a result of resin lot change, crushed material ratio change or molding environment change.
Abundant molding controls
- A variety of function are installed, such as VHI (virtual hydraulic injection) circuit, high sensitivity mold protection and ejection torque monitor.
6) Screw variation
Screw variation matched to diversified resin types is available.
| Screw name | Resin |
| --- | --- |
| DBG screw (standard) | General purpose |
| SRB screw | Engineering plastic |
| DBC screw | Hard vinyl chloride |
| GN4 screw | PMMA / transparent resin |
| BF screw | BF screw intended to prevent generation of black spot is newly added. |
| EPS3K screw | Small diameter :For PA/PBT |
7) Package specification
Satisfies customer's various needs.
Thermosetting resin molding machine
Vented-barrel injection molding machine
Liquid silicone molding machine
LCP spec/vinyl chloride spec/fluorine spec/connector spec/gas injection/light guide plate spec/MuCell spec
Major Specifications