Introduction of Technologies
We'll introduce you the technologies used in the BS servo.
High-speed calculation system: Dramatic improvement of servo performance with Volconic "BS servo X series amplifiers"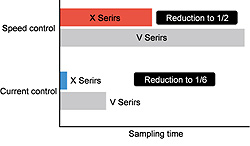 Development of new LSI (V-Engine, C-Engine)
A control loop is configured by hardware to realize high-speed calculation
Speed control sampling time: Reduction to 1/2, compared with our V series
Current control sampling time: Reduction to 1/2, compared with our V series
(Effects):
The settling time can be shortened sharply with improved takt time (or cycle time).
The control range extends with easy servo adjustment.
Strong servo rigidity can be assured against disturbance.
Evolving revolver feedback type servo system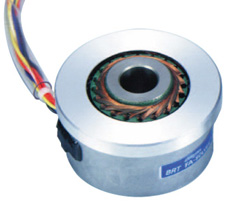 The revolver type which is overwhelmingly superior to the encoder type in environment resistance has now the performance as good as the encoder type. The BS servo assuring quick response and high accuracy can not only withstand a hostile environment, but built up an ideal servo system.
In the machine employing a quick response servo, vibration will be caused easily. Generally, deterioration is facilitated by the vibration, and a serious trouble will occur suddenly.
The revolver has a coil structure without an electronic circuit and assures outstanding durability against vibration. Thanks to this durability, the BS servo is popularized in a diversity of machines including a loom, spring fabricating machine, transport and loading/unloading equipment, and transfer system.
(Effects): Durability, quick response and high accuracy are improving continuously.