We started to sale brushed up UVM-450C (V2) as "The 2nd-Generation" High-Precision Vertical Machine.
Aug. 22, 2014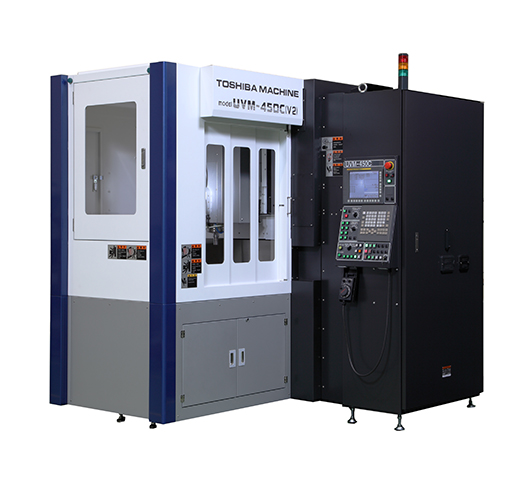 We has modified the popular UVM-450C high-precision vertical machine, and now started to sale it as the UVM-450C (V2) .

This machine, built for precision molds market such as LED lens or package molds, realized polish-less mirror surface finish cultivated with ultra-precision machining technology for optical part molds. It also helps customers to improve their productivity by eliminating polishing process or reducing time.

Main Features
Improving surface finish
With a high precision aerostatic bearing spindle (60,000 min-1, developed by Toshiba Machine) , applying updated CNC and modified linear encoder, position detecting error (dispersion) reduced to half. This allows stable, polish-less mirror finish (surface roughness at the 20 nm Ra level, impossible with conventional machining).
Reducing throughput time
In response to customer requests, four more tools have been added to the automatic tool changer (ATC) stock for a total of 16 tools, reducing tool changing by 25%.
Wealth of optional functions
In addition to previous tool index or rotary/index table for work, a new automatic work measurement instrument (which uses a touch probe to handle automatic work centering) is available as an option.
The machine also qualifies for the Japanese government's investment incentive tax system for manufacturing facilities, offering tax benefits to customers.