Develop the New Twin Screw Extruder TEM-58SSG: Features for the Compound Industry as Part of its World Strategy
Aug. 20, 2014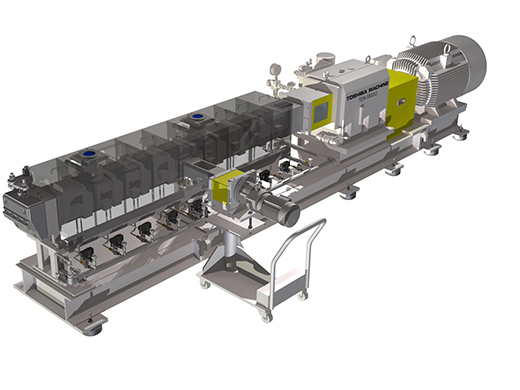 We has completed development and begun marketing the TEM-58SSG as part of its worldwide strategy to improve yields for compound makers in Japan and worldwide by boosting the basic capabilities of previous machines which has competitiveness price.

Main Features
Improved Core Abilities to Meet Customer Needs
This machine offers improved core capabilities, responding to compound-market customers worldwide and striking a balance between industry-vital features and cost.
・Retains TEM-SS series screw elements, keeping hard-earned machine know-how.
・A new shape of high-rigidity barrel and high-toughness screw element made of novel materials
・Expanded feed capabilities with a high-aperture feed barrel (67% boost in aperture ratio)
・Low-pressure loss/high-filtration area breaker plate and small orifice plate
・Suspended head open/close assembly
・Simplifies machine installation by High-rigidity frame and leveling plate

Options to Improve Maintenances Ability
・Special OP coupling makes screw installation/removal easier
・Special plates at base of feed barrel improves maintenance
(1) Discharge plate for production operation
(2) Removable plate for cleaning
・Vent port uses a new vent clamp system instead of previous bolt-based installation, making cleaning easier

Options to Improve Wear Resistance
Wide variety of options available, including the AW2-6B anti-wear screw element (external layer: specialized steel; core layer: high-toughness material) , sleeve-type barrel, and ceramic orifice plate.