Toshiba Machine starts the sales of the double column type machining center MCW-46150 (5A) series that can improve the machining productivity of long aluminum workpieces
Feb. 12, 2016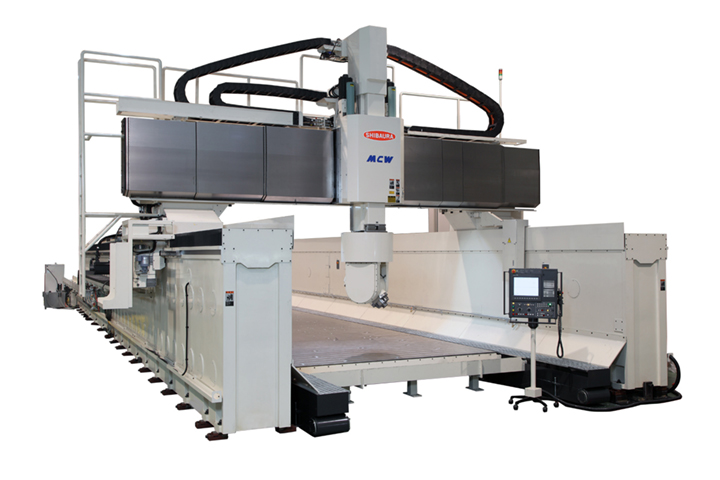 We have started the sales of the double column type machining center MCW-46150 (5A) series designed for high speed machining of long aluminum workpieces, specifically aircraft parts.

Main Features
Support for workpieces as long as 15m
With the maximum payload of 10 tons/m2, the MCW-46150 (5A) series achieves a long stroke of 15m by making the forward and backward travel of the crossrail on the X axis without being affected by the workpiece mass. The MCW-46150 (5A) series also provides stable machining performance since the machining head moves while the workpiece is fixed and the mass of the moving object on the X, Y and Z axes does not change.

The 5-axis head (max 12,000 min-1) makes it possible to achieve high speed machining 20% faster than the conventional machines.
The use of a high output built-in motor (AC64kW [30 min rating]/53.4kW [continuous rating] in the spindle makes the MCW-46150 (5A) series capable of high speed machining with the maximum spindle rotation speed of 12,000 min-1 which is 20% faster than the conventional machines. The MCW-46150 (5A) series is also equipped with a direct drive motor in the B and C axes and a 5-axis head with high speed revolution of 3600 deg/min. This 5-axis head enables continuous machining from rough machining to finish machining, which makes it possible to reduce the setup time and improve the machining efficiency, resulting in improvement of the machining time by 20% when compared with similar products of our competitors.

Improved machining quality of workpieces by the state-of-the art CNC unit TOSNUC-PX-100
By installing the tool tip point control function (option) which automatically controls the position changes of the tool tip in 5-axis machining, the MCW-46150 (5A) series can improve the machining finish of uneven machined surface as well as the finished surface quality, contributing to improvement in the overall machining quality of workpieces.
The suggested retail price of this machining center is 400 million Japanese yen (varies with the specification since this is a specialized machine). We are planning the sales of 3 to 5 units annually mainly for application in finish machining of aircraft parts.