Toshiba Machine starts the sales of the high speed machining center MF-2560 series that exhibits power in rough machining of aluminum workpieces
Feb. 12, 2016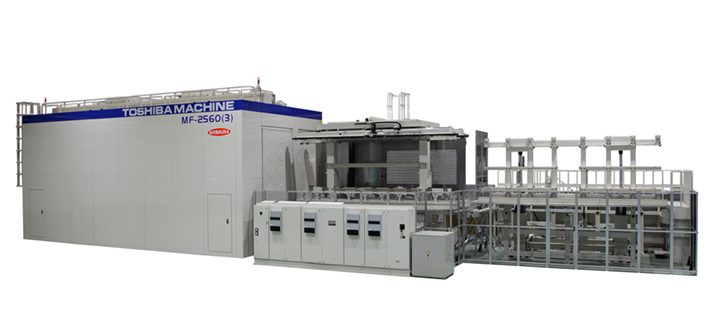 We have started the sales of the high speed machining center MF-2560 series especially designed for rough machining of aluminum workpieces for aircraft parts.
Mainfeatures of MF-2560 series
Significant reduction of the machining time by half the conventional machines with high speed and high efficient machining
The MF-2560 series achieves a rapid traverse speed of 50m/min, which is twice that of the conventional large-sized machine tools, for each of the X, Y and Z axes.
The MF-2560 series significantly reduces the machining time by 50% compared with the conventional machines, which was made possible by high speed and high efficient machining of aluminum workpieces as well as by high speed, high torque, and high acceleration and deceleration speeds.

Exhibiting power in rough machining of aluminum workpieces by high output and the high speed spindle
A 120kW built-in motor is adopted in the spindle. With the maximum spindle rotation speed of 33,000 min-1, the large-sized MF-2560 series can achieve high speed machining. It also achieves aluminum machining performance of 8,000cc/min or more. The MF-2560 series contributes to production improvement of our customers by significantly reducing the rough processing time.

Equipped with a large-sized cover with consideration for safety
The MF-2560 series is equipped with a large-sized cover with considerations for the prevention of scattering of chips and coolant as well as for operator safety since it generates chips due to the nature of high speed machining. The MF-2560 series can maintain the production site in a safe and clean environment.
The suggested retail price of this machining center is 500 million Japanese yen (varies with the specification since this is a specialized machine). We are planning the sales of a couple of units annually mainly for application in rough machining of aircraft parts.
.