45th Machine Design Awards
Sep. 18, 2015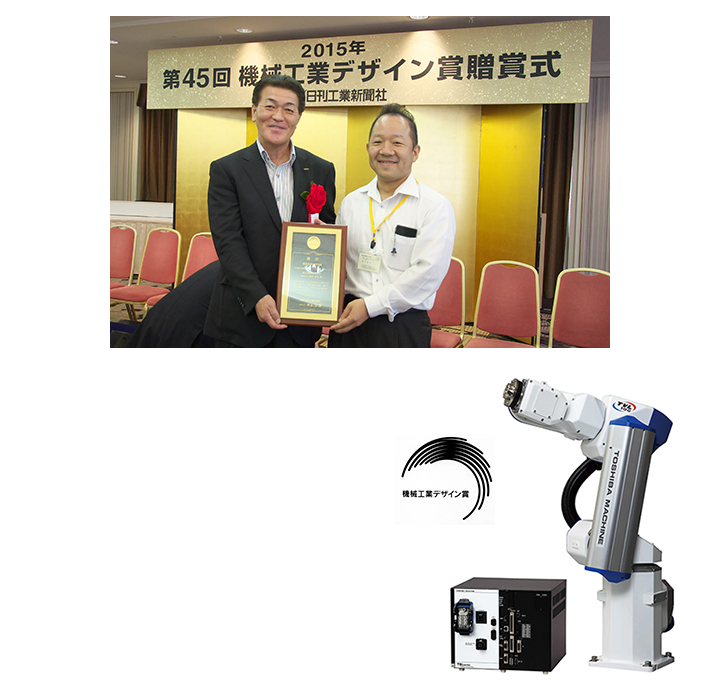 We are pleased to announce that Toshiba Machine's compact vertical articulated robot series TVL500 and TVL700 were selected as Special Committee Award winners at the 45th Machine Design Awards sponsored by the Nikkan Kogyo Shimbun.

This Special Committee Award is given to industrial goods based on a comprehensive assessment of a wide variety of elements including appearance, functions, performance, and colors.

For this award, our products received high ratings in three aspects: function, operation, and design.


We achieved light and compact robots with the use of aluminum die casting parts and extruded aluminum parts (robot body weights: 28 and 31 kg respectively; arm lengths: 500 and 700 mm; reach: 602 and 801 mm; maximum weight carrying capacities: 1 and 4 kg (rated values); footprint: 180 x 180 mm for both). The robots provide top-class performance in the industry and excellent value for money (standard cycle times: < 0.3 and < 0.4 seconds; repeat positioning accuracies: ±0.02 and ±0.03 mm; price: 25% reduction from the earlier models). The most distinctive feature of these robots is the extruded aluminum parts with two T-shaped grooves used for the 1st arm. To these T-shaped grooves, hands, vision sensors, air tubes, and rails conforming to the German industrial standard, DIN (Deutsche Industrie Normen), can be affixed. We offer a rich lineup of optional items including taps for fixing tools in place and input/output (I/O) panels to ensure high product convenience.


The teach pendant has a color LCD, is IP65-rated (International Protection: classification of level of protection against dust and water), is equipped with graphical operation keys, and provides a word association function for the program editor (display of input suggestions) and an outline display function for programs written with the special language SCOL (hierarchical display). The graphical operation keys show a different keyboard set depending on the operation, so that the necessary keys are displayed at the right time. This model has dramatically reduced the difficulty in using keys, which is a common problem on compact teach pendants, and it has been widely recognized as an attempt to improve operability.


The award winning robots are designed with a lot of straight lines. Both have covers that include a Mr. Fuji-inspired design, since Toshiba Machine's head office is in Shizuoka province with views of the mountain.

The robots have been recognized as being high quality since they are expected to serve as general-purpose machines that provide high productivity.

We will continue to develop machines with a beautiful structural design, which is translated into functional beauty.