Development of the Nano-Imprint Equipment ST50S-LED for High-Brightness LED (Contributing to high brightness of LED elements)
May 18, 2011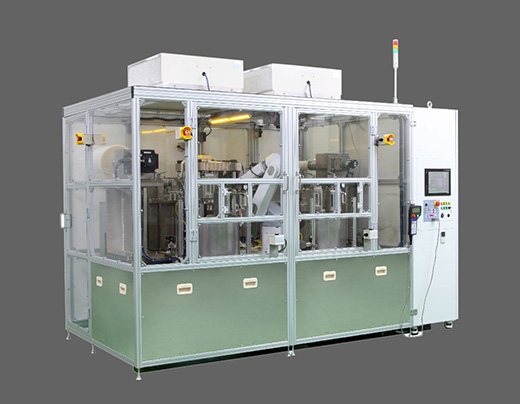 We developed the nano-imprint equipment ST50S-LED that further improves the brightness of LED elements, and going to showcase it at the 9th Toshiba Machine Group Solution Fair 2011 held in May 19th to 21st in our Numazu headquarters/factory and Gotemba factory.
High brightness is becoming more important every year in the fast-growing LED market.
Nano-imprint technology is a key to higher brightness as it improves internal quantum efficiency and external luminous efficiency to enable higher brightness LED by making three-dimensional patterns on sapphire substrates including one forming the compound semiconductor film.
By integrating our accumulated imprint technology and roll-to-roll technology which is based on extruder's coater technology, we developed the nano-imprint equipment ST50S-LED for high-brightness LED. This equipment enables automatic whole-surface UV imprint to form a fine-shape pattern of nanometer-order on a curved LED substrate.
Features and basic specifications of this equipment
Supports f4-inch LED substrates.
Enables UV imprint on the whole surface of a curved wafer in film mode.
Equipped with the auto-loader for full automatic imprint.
We will set the price at 150 million yen and sell 10 of them in the first year.