Toshiba Machine has started sales for its new TVM series of vertically articulated robots (featuring longer reach and higher payloads for material handling)
Apr. 20, 2017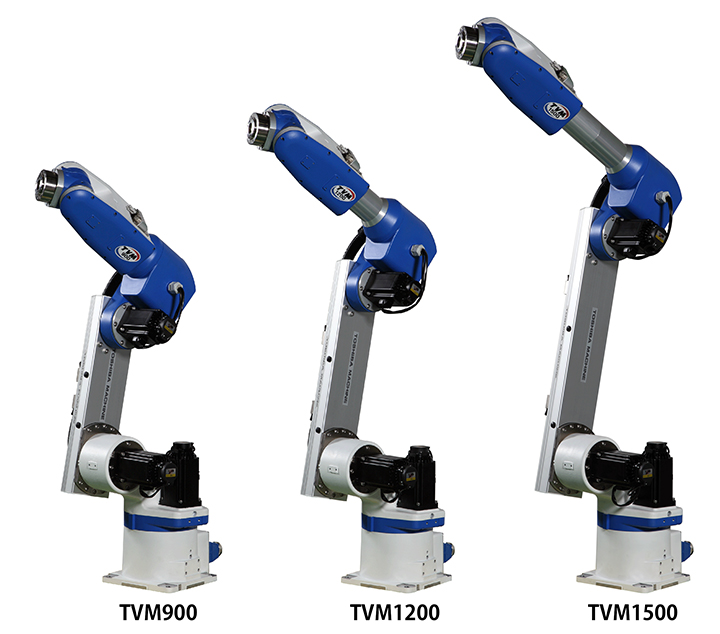 We have developed and launched three new models in its TVM series of vertically articulated robots. The TVM series is designed primarily for use in transfer and assembly processes in the automobile components industry and enables high productivity in assembly and transfer by combining with a wide array of system installation support tools.

Main Features
High cost performance and reliability
TVM900 (Reach: 900 mm, Maximum payload: 20 kg)
TVM1200 (Reach: 1,200 mm, Maximum payload: 15 kg)
TVM1500 (Reach: 1,500 mm, Maximum payload: 10 kg)
While having longer reach and higher payloads, the models in the TVM series also provide high cost performance through use of shared parts and lightweight designs. The major parts for these products are manufactured in Japan for ensuring maximum reliability.

Easy installation of automated bin picking systems
Combining with the robot vision recognition package, TSVision3D (option), enables quick and easy installation of an automated bin picking system. TSVision3D includes a number of powerful features such as easy model registration without requiring CAD data, easy calibration, function for collision avoidance with boxes, and more, for serving as a powerful support tool in system installation.

Programming support tool for powerful assistance in system installation
The TSAssist (option) robot programming assist tool can be used to provide powerful assistance in all work phases, from planning of automation facilities to installation and improvements. The high-performance 3D simulation function of TSAssist includes useful features for interference check, path display, accurate simulations, and more.
These models will be exhibited at the Toshiba Machine Group Solution Fair 2017 to be held in May.