A new high-speed handling SCARA robot has been added to the lineup. (Enabling 24/7 high cycle operation)
May 23, 2011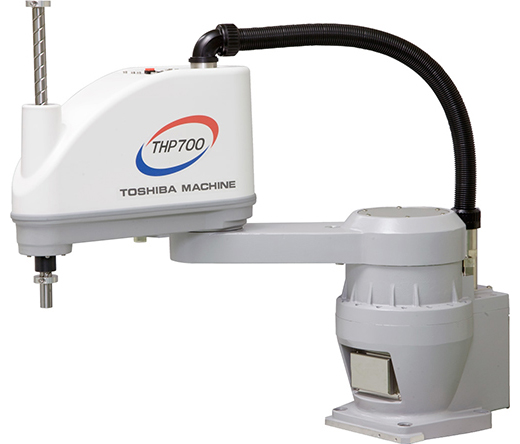 We developed the SCARA robot THP700 (arm length: 700 mm; max. transportable weight: 10 kg) as an additional lineup machine of TH550 (arm length: 550 mm; max. transportable weight: 2 kg), which specializes in high-speed transportation of lightweight objects.
Main features of this machine
Pursuing a lightweight arm and low inertia has led to the swiftness of the cycle time* of 0.3 seconds and the durability of 24/7 operation at 120 cycles/min.
The controller is the new TS3000 that is equipped with Ethernet, enabling easy connection to a vision system and other external devices.
We expect that this machine will meet the needs of high-speed, continuous conveyor transportation and packaging in the solar cell category, especially the crystalline silicon solar cell area where the extremely high growth rate is expected, and the steadily growing foodstuff and medical categories.
We have set the price at 1.9 million yen and will sell 20 of them per month.
*1 The cycle time
This is the cycle time for rough positioning in the case of moving 300 mm and back horizontally, and moving 25 mm and back vertically (transportation of rated 2 kg).