Development of new die casting machine DC400K (Features and specifications that meet the needs of emerging courtiers)
May 18, 2011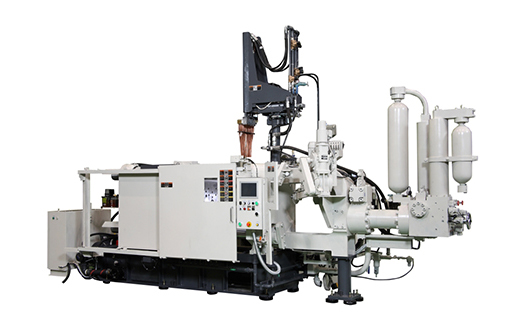 Here we unveil our newly developed die casting machine DC400K.
In contrast to the conventional models, this machine targets the premium market segment in the emerging countries for the first time, and is equipped with the features and specifications of emerging countries market needs to narrow down the targets.
The development concepts are as follows:
Targeting the premium market segment in emerging countries
Usability and specifications that meet customer needs in emerging markets
Non-stop, easy-to-maintenance features
Troubleshooting function is equipped as standard equipment for stable production.
High-speed, high-productivity machine
Quick cycle mode is designed to support production efficiency.
Enhanced injection ability
Based on conventional injection ability, the intensified ACC is added to improve quality.
Toshiba Machine Shanghai, our local subsidiary, manufactures this machine to cover emerging markets. The development starts with the most demanded model (clamping force of 400t), and the lineup will be strengthened accordingly.

We will start selling this machine later in 2011 after completion of several field tests, and initially sell five of them per month. The price will be reduced by about 30% compared to the conventional models.
We will showcase this machine (reference exhibit) at the 9th Toshiba Machine Group Solution Fair 2011 held in May 19th to 21st in our Numazu headquarters/factory and Gotemba factory.
Apart from DC400K, the model stand of "Hybrid Injection" equipped with an electric servo motor is displayed as a reference exhibit in order to propose our activities for reducing impact on the environment.