New release of the electric injection molding machine EC850SX (Extended EC-SX series for large machinery category)
May 18, 2011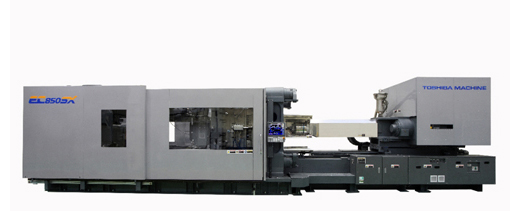 We are going to start selling the new injection molding machine EC850 (clamp force of 850t) by remodeling EC850NII.
This machine evolved from the EC-SX series (with clamping force of 50 to 550 tons), which was launched in November 2008, and has the enhanced clamping force of 850 tons. It inherits the concepts of EC-SX series: 1) the new clamping device Solid Clamp that enables even distribution of clamping force, and first-rate high cycle; 2) the new injection device S-Cube that enables stable molding by powerful filling and smooth movement; and 3) INJECTVISOR-V50 that speeds up the control cycle with stable repetition, enabling the machine not only to reuse the EC-SX ability and features of small size precision molding but to support high productivity and precision stability in molding of large-sized products. Also, its length is shortened by 800 mm, and thus the required area for it to be installed is smallest in the industry compared to the same types of electric injection molding machines. Since level pad installation is supported, plant layout changing according to the production status is easy to execute even for large-sized injection molding machines.
We will set the price at 66.1 million yen and sell 50 of them per year.
We are going to showcase this machine at the ninth Toshiba Machine Group Solution Fair 2011 held from 19th to 21st May in our Numazu headquarters/factory and Gotemba factory, as well as demonstrating foam molding of automobile door trims, in which the influence of a die temperature change after starting molding is compensated and the constant core-back position is retained in a bid to enable stable precision molding with the lightweight molding technologies.