Completion of the Toshiba Machine Production Base in Thailand (Establishing a "local production for local sale" structure in Southeast Asia)
Jan. 29, 2014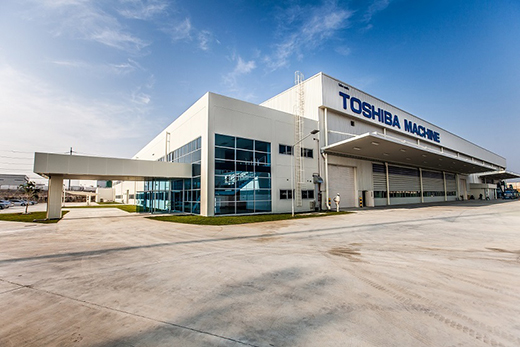 Toshiba Machine has completed the construction of the first plant at its local manufacturing affiliate company in Rayong Province, Thailand, in order to quickly meet capital expenditure demands in Southeast Asia. A completion ceremony was held on 11 December 2013.

The newly completed first plant is a reinforced concrete structure (partially 2-story) covering an area of approximately 11,000m2 (total floor area). It is equipped with paint booths as well as an overhead crane and semi-portal crane, among other features. The plant is also environmentally friendly and energy efficient.

The plant's annual production capacity will comprise 1,000 injection molding machines and 240 die casting machines, and its monthly production capacity at the start of operation will comprise 20 small injection molding machines and 5 die casting machines, moving to full production from April.

With the launch of operations at this plant, the Company's overseas production structure now consists of three plants, based in China, India, and Thailand. Toshiba Machine aims to establish a structure for the rapid supply of products to the Southeast Asia region in order to meet the needs of the region and bolster its regional market share, as part of a "local production for local sale" strategy in which molding machines are manufactured and sold in close proximity to the customer.
Utilizing the combined resources of these overseas plants and our domestic plants, Toshiba Machine aims to achieve an annual production capacity of 5,200 injection molding machines and 1,000 die casting machines with in three year.