Controller TS3100V2
Overview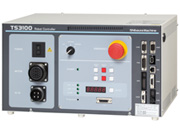 Maximum simultaneous number of controlled axes is the controller of vertical articulated robot TV600 of the 6-axis.
Provided with a wide variety of functions including interrupt processing, signal and communication processing during operation, arithmetic operation, limiting torque, sequencer, and self-diagnosis.
TEL:
TOKYO MAIN BRANCH: 81-(0)3-3509-0270
NUMAZU HEADQUARTERS: 81-(0)55-926-5032
Specifications
No. of controlled axes
Maximum 6 axes
Motion modes
PTP, CP (Linear, Circular), Short-cut, Arch motion
Position detection
Absolute Encoders
Storage capacity
Approx. Total: 12800 points + 25600 steps
1 program: 2000 points + 3000 steps
No. of registrable programs
Maximum 256
Programming language
SCOL (proprietary, similar to BASIC)
Teaching unit(option)
Teach pendant TP3000 and TP1000
(Programming support PC software TSPC also available)
External operation signal
32 input, 32 output
Hand control signals
4 input, 4 output
External operation signal
Input
program selection, start, stop, reset, etc. (13 signals)
Output
Servo-ON, ready for opertion, failure, cycle stop, etc. (13 signals)
Serial communication ports
RS-232C:2 ports, Ethernet:1 port, USB *
Other functions
Interrupt functions, self-diagnosis, I/O control and communication during motion,coordinate calculations, built-in PLC, etc.
Power supply and capacity
Single-phase AC200V-240V, 50/60Hz,
Power supply
TV600:1.0kVA
Outer dimensions and mass
420W × 241H × 298D (mm), Approx. 17kg
PC Software for Programming Support (optional)
TSPC: Program editor, teaching, remote operation, etc.
I/O and Fieldbus options
I/O extension, I/O cable, Field-network (CC-Link, DeviceNet, PROFIBUS)*
*- Windows is a registered trademark of Microsoft Corporation in the U.S.A.
- Ethernet is a registered trademark of XEROX Corp. in the U.S.A.
- CC-Link is a registered trademark of CC-Link Partner Association.
- DeviceNet is a registered trademark of ODVA.
- Profibus is a registered trademark of Profibus User Organization.
TEL:
TOKYO MAIN BRANCH: 81-(0)3-3509-0270
NUMAZU HEADQUARTERS: 81-(0)55-926-5032