Support for Sample Projects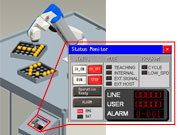 Sample Projects are a collaborative system between Shibaura Machine Co., Ltd. and Digital Electronics Corporation.
They enable users to check the status of the robot on the touch panel display device.
TEL:
TOKYO MAIN BRANCH: 81-(0)3-3509-0270
NUMAZU HEADQUARTERS: 81-(0)55-926-5032
Overview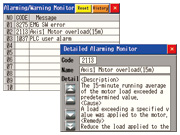 ● When an error occurs in the robot, the error information or details can be checked on the Alarm Monitor Screen.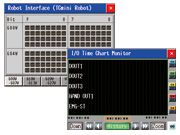 ● Additionally, various other screens for functions including Robot I/O Monitor, Current Position Monitor, I/O Time Chart and Connected Device Data Transfer are provided.
● The status of the robot can be checked even by people who cannot operate the teach pendant.

● Because the information about both the robot and the system is displayed on the same display device, troubleshooting is much easier.
● The above robot screens can be downloaded from the website of Digital Electronics Corporation free of charge. There is no need to create these screens and they can be used immediately after product purchase.
http://www.pro-face.com/otasuke/download/sample/manufactures.html
* For product information about the touch panel that is compatible with this system, please contact Digital Electronics Corporation.
http://www.pro-face.com/otasuke/sample/detail/common/connection_robot_con_ts_e.html
TEL:
TOKYO MAIN BRANCH: 81-(0)3-3509-0270
NUMAZU HEADQUARTERS: 81-(0)55-926-5032