BTD-100.R10
Main Features
Advanced spindle
Spindle diameter of 100mm and 350mm feedingfor enabling approaches even to narrow machining points.
Wide table featuring high load resistance and easy setup
Standard configuration includes a 900mm x 950mmwide table with a maximum load capacity of 4t.
Supports setup of workpieces with evenlarger widths than before.
Higher rigidity and higher accuracy
Advanced analysis techniques were utilized toincorporate the optimum rigidity balance for the entire large-scale structure.
A twin ball screw driving system is used inthe spindle head for providing improved feeding rigidity and contour machiningaccuracy.
Excellent operability
Includes our general-purpose pendant with aproven track record of performance to enable switching between Manual, MDI, andAuto operation at the touch of a button.
The design combines both the userfriendliness of a manual machine with the productivity of an NC machine.
Machine specifications
●Travel (X-axis×Y-axis×Z-axis×W-axis):1000×900×700×350mm
(39.3×35.4×27.5×13.7in)
●Table working surface:900×950mm (35.4×37.4in)
●Spindle speed:20~3000 min-1 
●Main motor power:AC30/22kW (40/30HP)
●Floor space:4370×3710mm (172.0×146.1in)
●Machine height:2800mm (110.2in)
●Mass of machine(including CNC system):14 700kg (32 400lbs)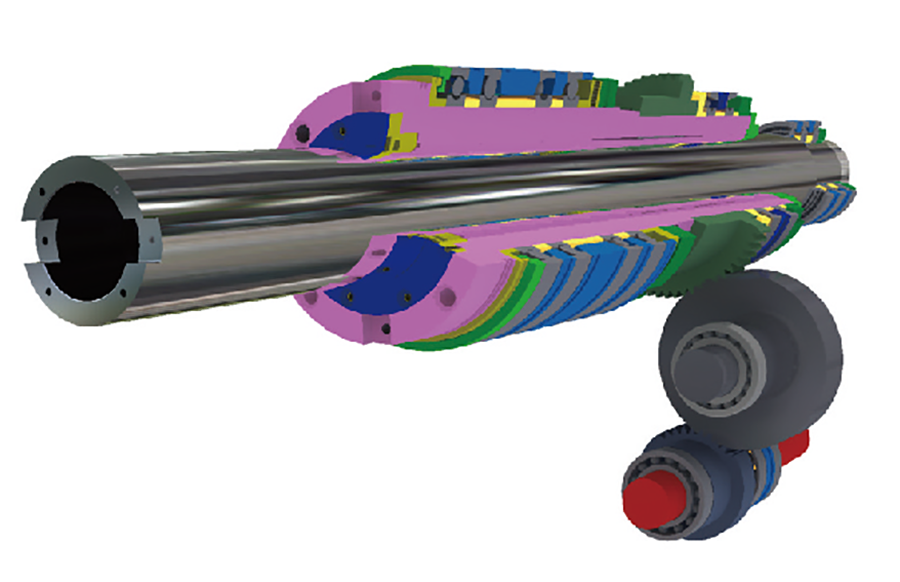 Boring spindle with a rigid 100mm diameter and 350mm programmable stroke "plus" the capability to reach narrowand confined spaces.
Spindle head construction
Compact, rigid and low thermal displacement are achieved on the machine based on an ideal layout of shafts, gears and bearings. Oil mist lubrication is applied in the spindle head in order to minimize heat generation in the driving system and effect on environment.
The column supports the spindle

High rigidity column for supporting spindle head
The robust column with stepped guideway is used. Twin ball screw design putting the center of gravity within the column enables stable up-and-down motion of spindle head.
Hardened and ground spindle
The boring spindle is deeply quenched in nitrogen gas, and ground precisely to assure accuracy over a long period.
Spindle torque diagram
An example of cutting ability (workpiece material: AISI 1055)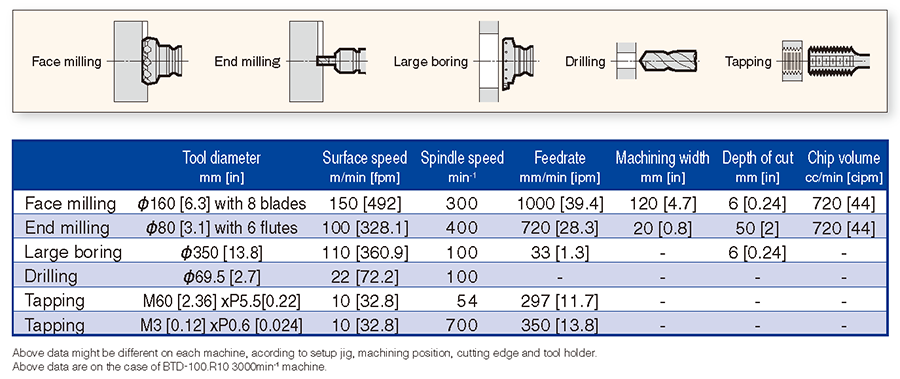 Compact main components, with an emphasis on rigidity and high accuracy. In addition to our vast experience , modern FEM analysis is utilized to design main components.

Bed
Low but rigid bed securely supports the whole machine to supply lower working height and smaller machine space.
Column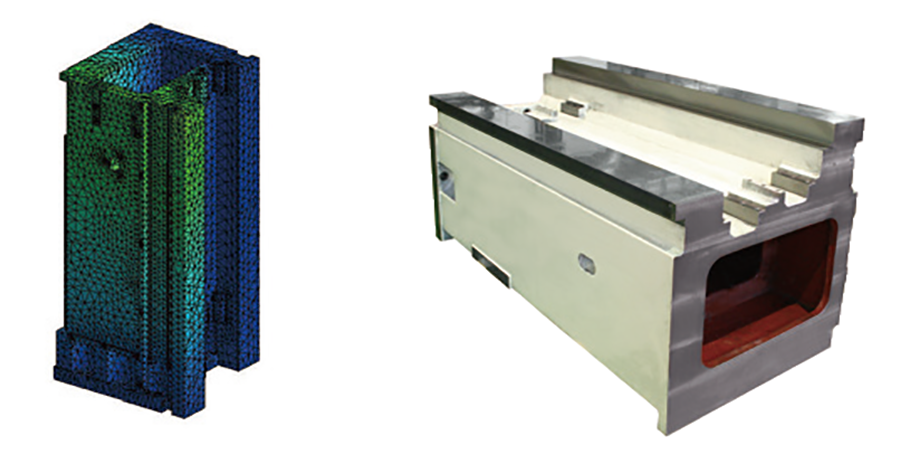 Rigid column securely supports the spindle head securely under heavy load and circumstances on the machine with lower working height and smaller machine space.
Saddle

The gap and width of supporting areas are optimized to minimize deformation of saddle.
Twin ball screw drive on the spindle head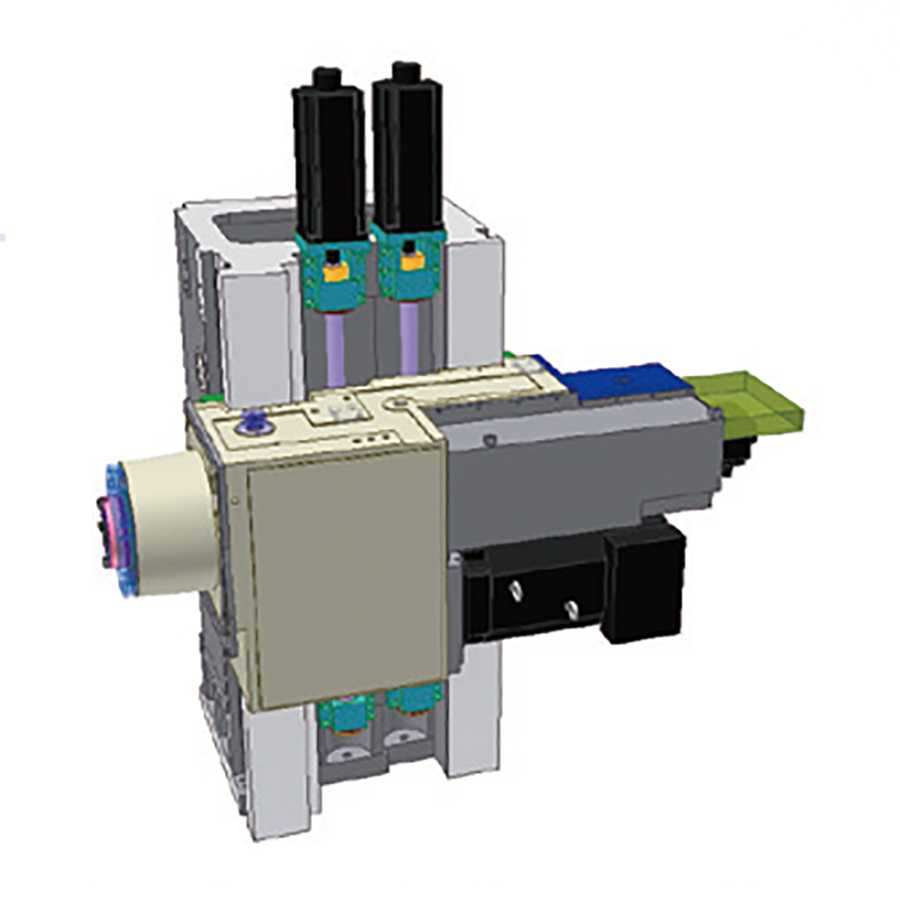 Servo motors are directly connected to the ball screws to achieve high repeatability and accuracy.
High rigidity feed system driven by two ball screws eliminates a counter weight system, which can be a source of trouble for high speed machine and requires lubrication.
New B-axis drive mechanism (pat. pending)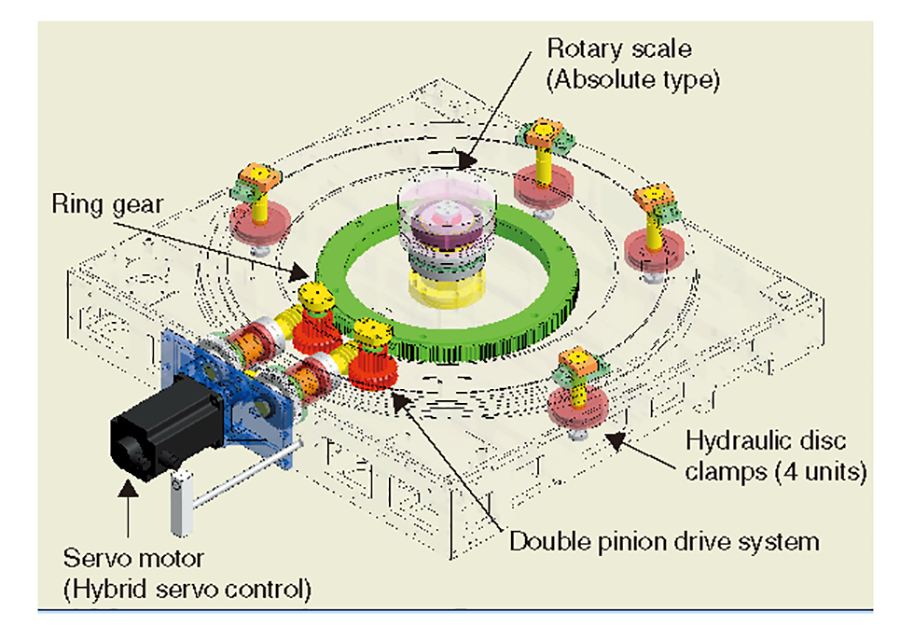 Rigid double pinion drive system and absolute rotary scale are standard features. New hydraulic clamps assure stable and high indexing accuracy.
Space saving(R10)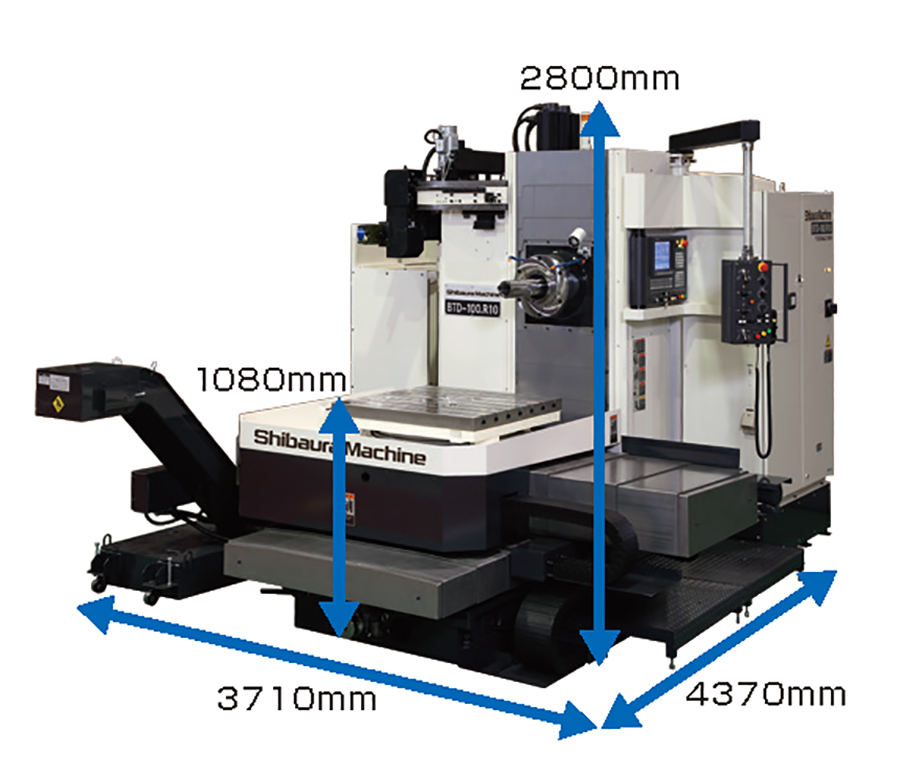 Machine's floor space is only 4370 mm x 3710 mm (14 ft. 4.0 in x 12 ft. 2.0in).
Workpiece arrangement(R10)
Table height is designed lower so that operators caneasily load and unload workpieces.
Note: The right picture is BTD‐100.R10.
Lighting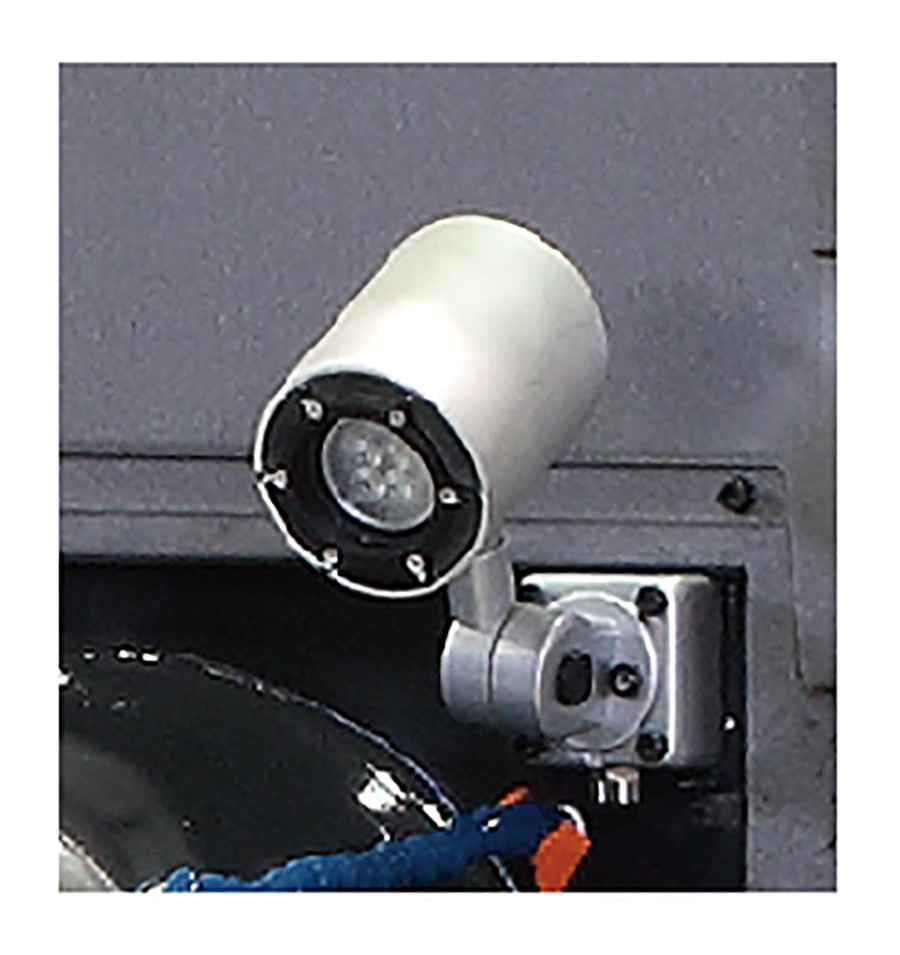 Bright LED spot light improves operator's working efficiency.
Centralized maintenance equipment
Oiling points requiring periodic access are located at one place for easy and convenient maintenance.
Unified lubricating oil
Same lubricating oil can be used for gears and bearings.
Convenient rotary milling function (option)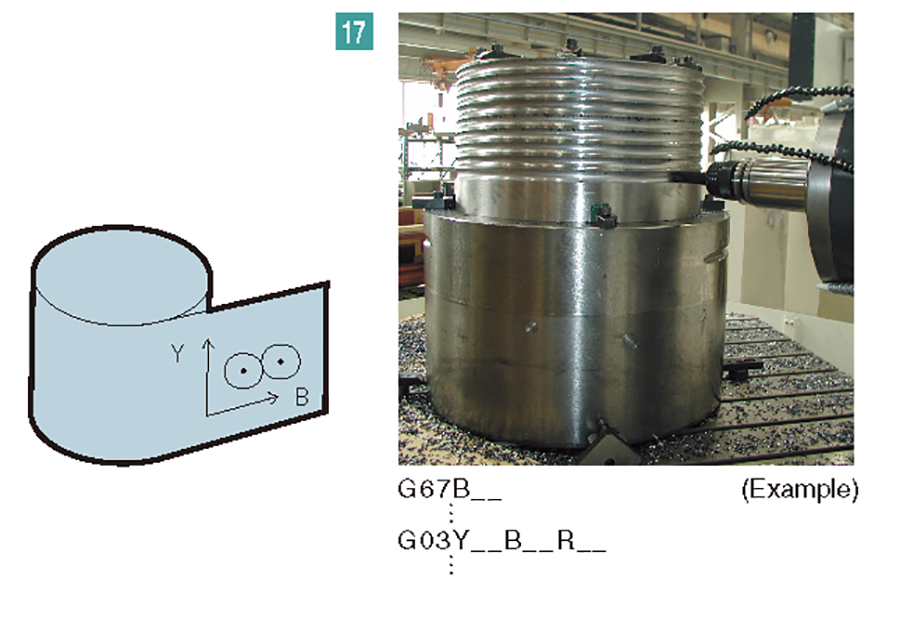 Continuous indexing function of B-axis table enables continuous machining of cylindrical surface and end faces , without an independent or additional NC rotary table .
Machining program of cylindrical surface can be created easily on the machine, without special CAM software.
Automatic centering function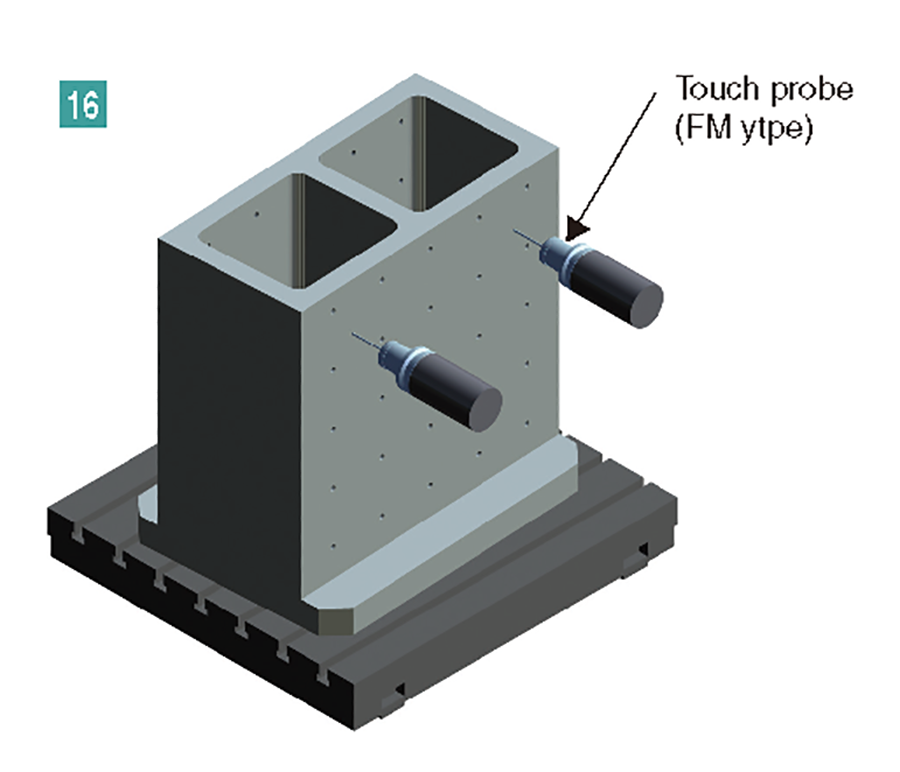 Automatic compensation by precision indexing of rotary table , based on touch probe measurement , eliminates troublesome centering work.
TOSNUC999 (triple nine)

TOSNUC999 (triple nine) makes it possible to select Manual, MDI and Auto mode with a single touch
Customized key layout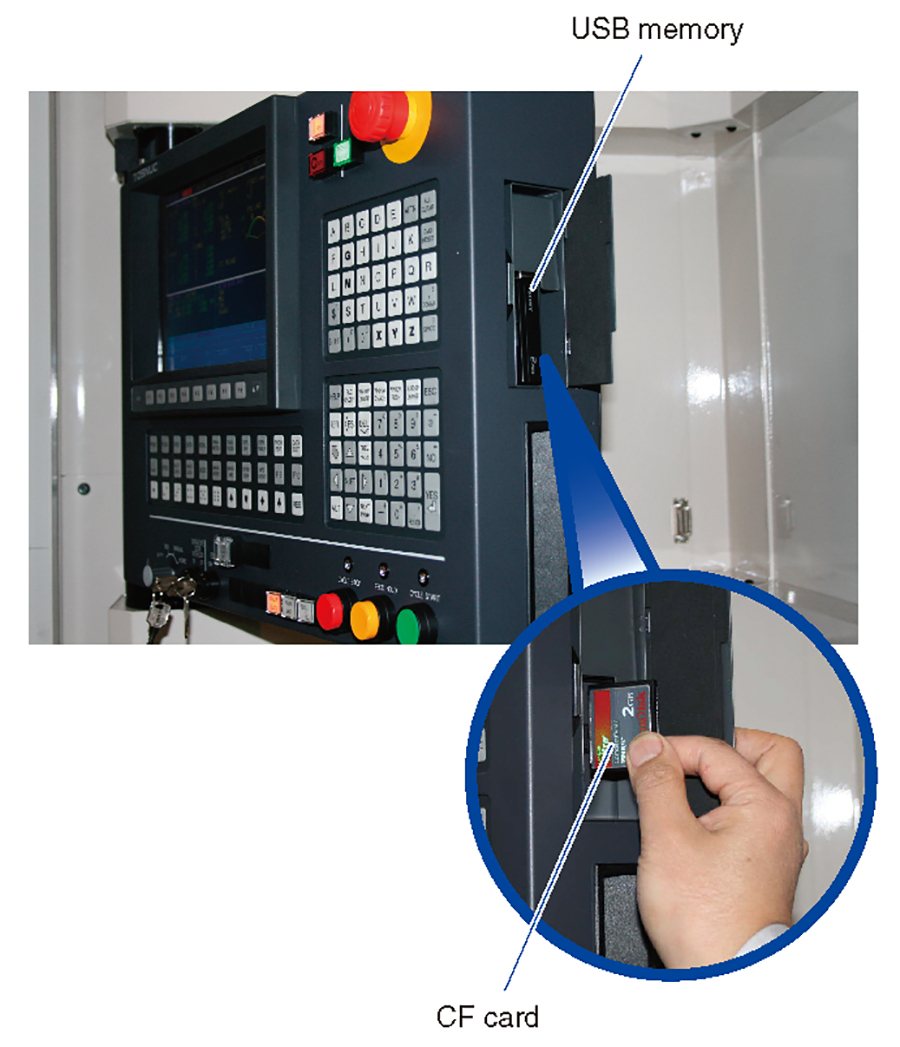 1. Special operation record buttons
Series of key operation are consolidated into one special key such as , and pressing one of these keys executes the same chain of previous operation by several keys.
2. Special combination screen buttons
A combination pattern of such basic screens as main screen, sub-screen and windows is consolidated into one special key as. and pressing one of these keys immediately displays a combination screen.
Dual interface port for USB and CF memory
The controller has two kind of ports for USB memory and Compact flash (CF) memory as a standard loading device, to input massive part program data.
Full screen editing function helps to easily create a part program.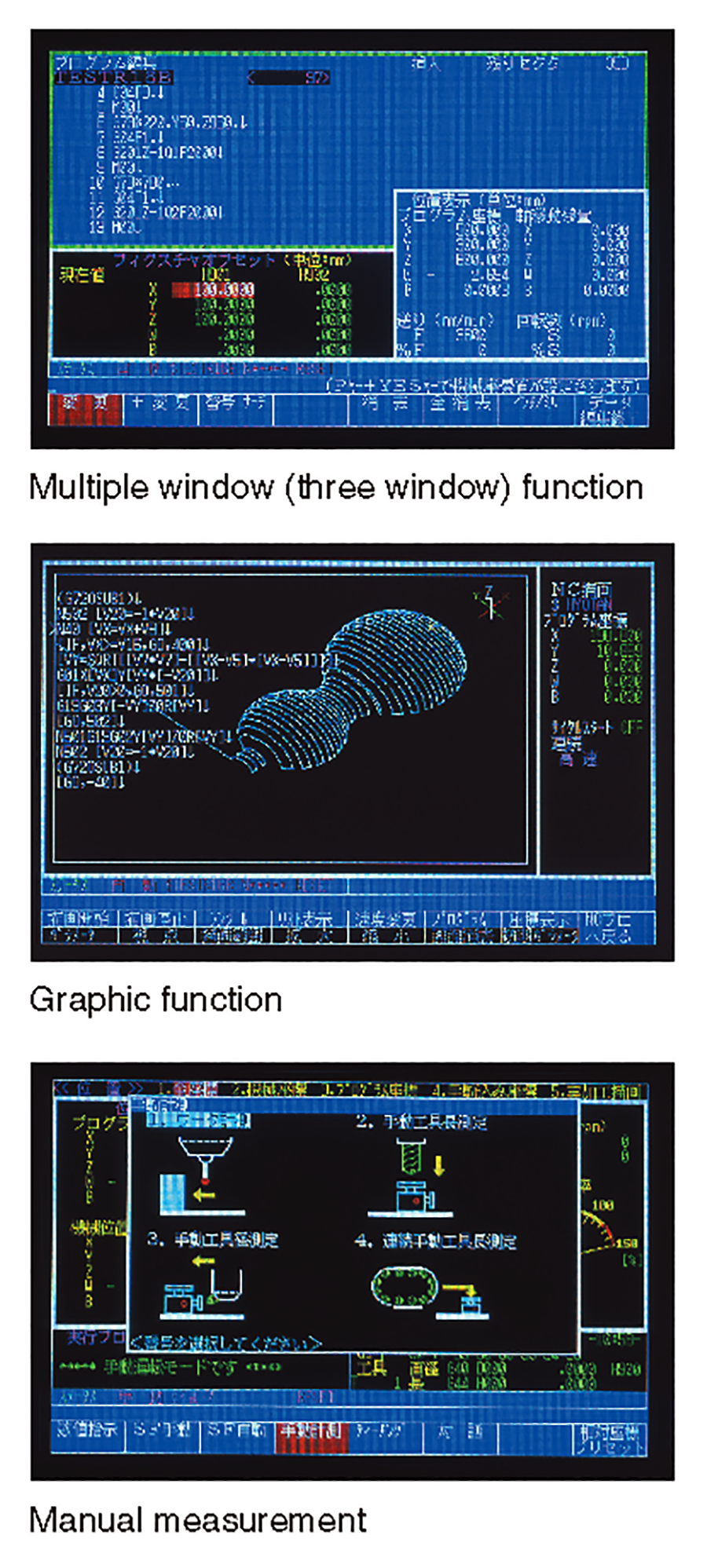 Multiple window display (three kinds)
Three windows can be displayed on a screen simultaneously to show such data required for machining as two part programs and offset data
Part program creation from proven programs
A new part program can be created on a screen based on several existing part programs in memory which are shown on multi windows by referring and copying parts of them.
Visual program check (option)
A part program in memory directory can be checked by drawing a graphic path on a screen in background, while the machine is working under a current part program. Tool path is drawn graphically after completed format check of the part program.
Three teaching modes
All information operated on the key board and operator pendant by operator at actual machining are stored in memory as a part program in teaching mode. Combination of such part programs stored in each teaching mode make it easy to create a new part program.
Manual teaching mode
All program input through key board line by line in MDI mode are automatically stored in memory.
MDI teaching mode
All program input through key board line by line in MDI mode are automatically stored in memory.
Automatic teaching mode
Revised data in a working part program in "AUTO mode" or in "DNC mode" are automatically feedback and stored in memory.
Various functions to improve and drastically reduce set up operation.
Manual centering function
Make the touch probe or master tool contact the measuring surface on a workpiece, following the instruction shown on the interactive screen, to measure hole and/or boss diameter and inclination of a workpiece to X-axis at set-up. A coordinate conversion and fixture offset are executed automatically, based on the result of calculation from these measured data.
Machine specifications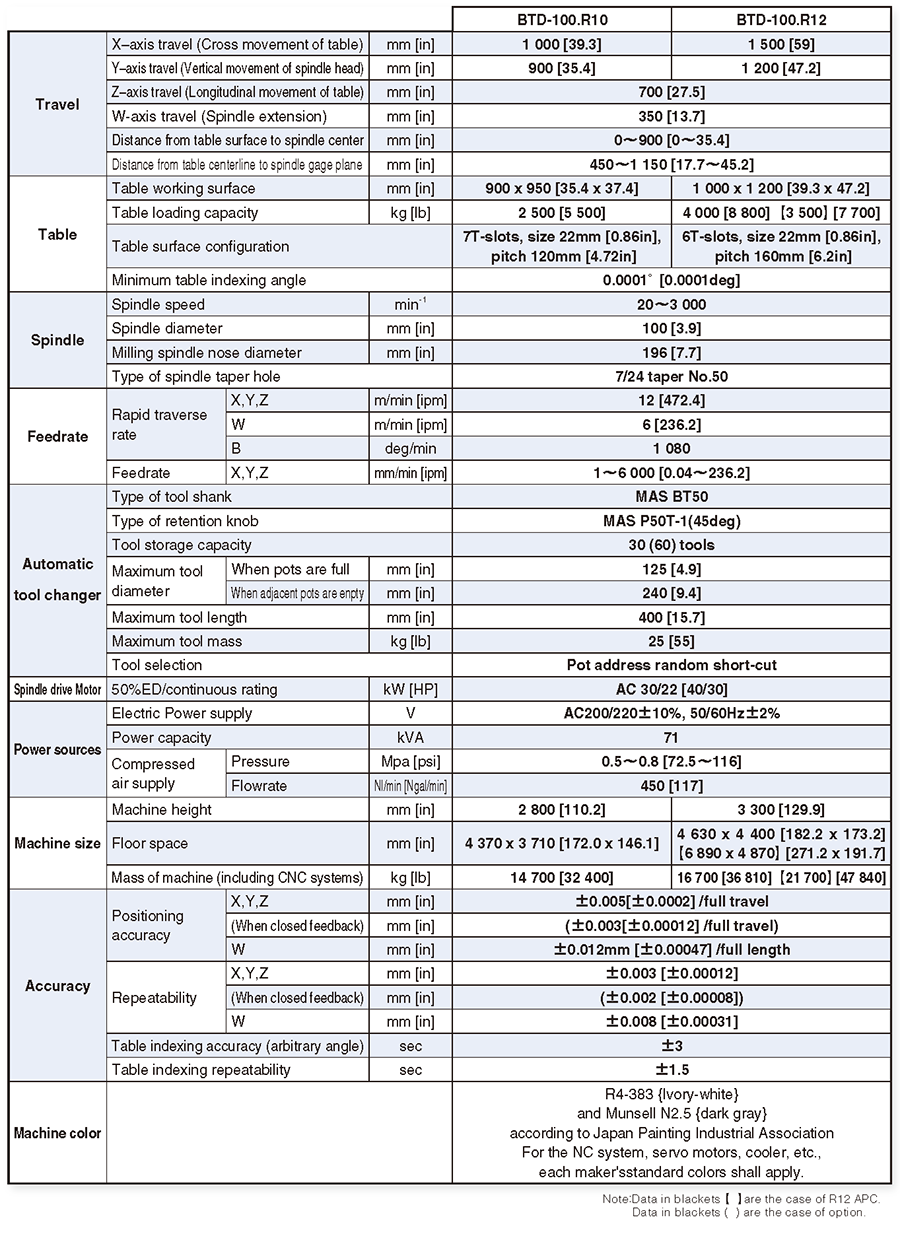 Standard Accessories

Optional Accessories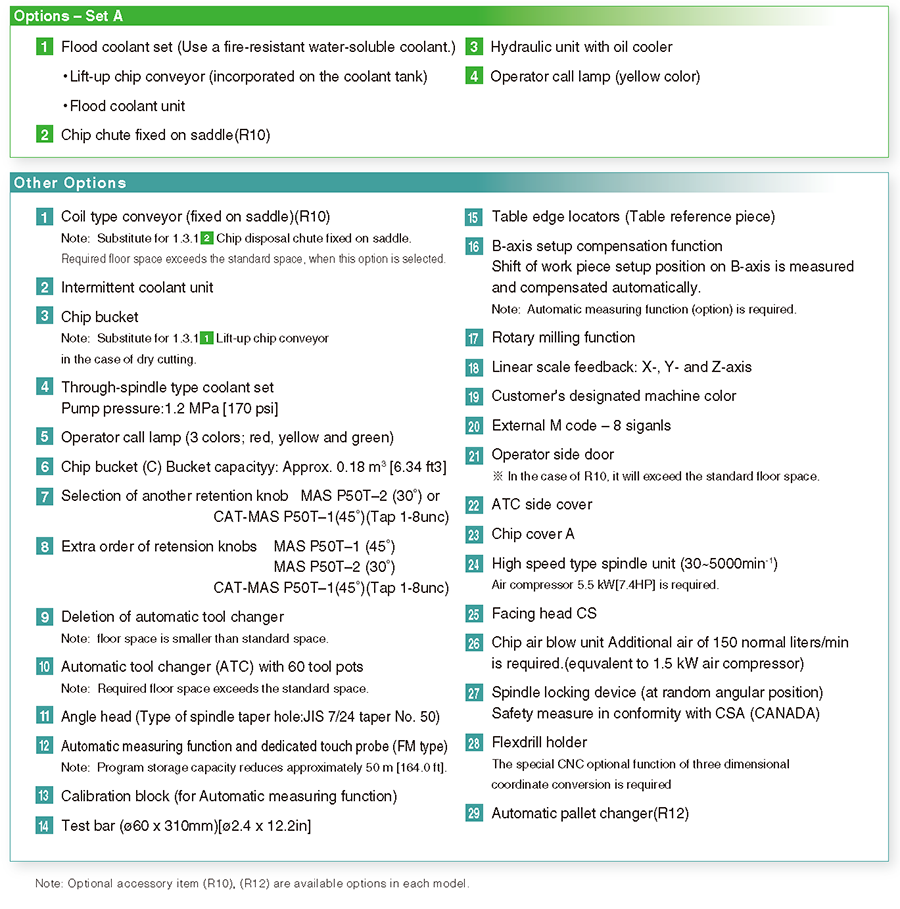 Specifications of CNC controller "TOSNUC 999"
Specifications of CNC controller

Optional Specifications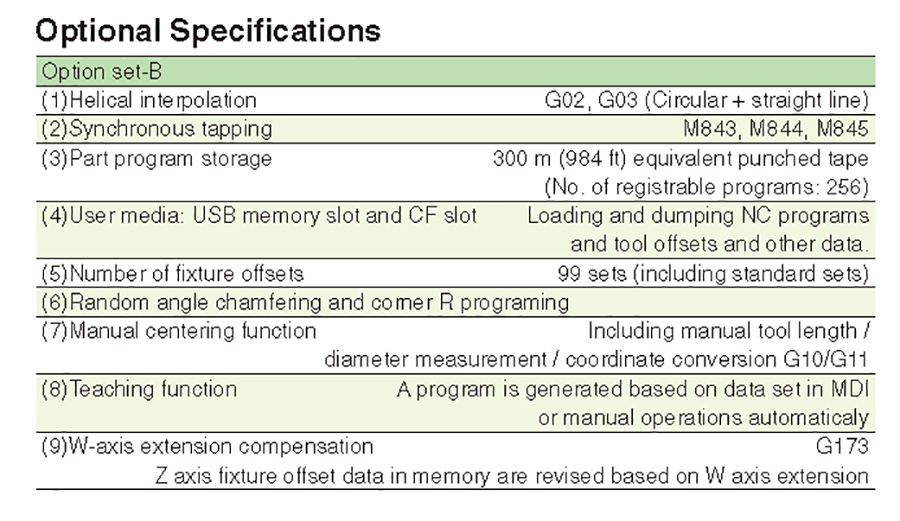 Other options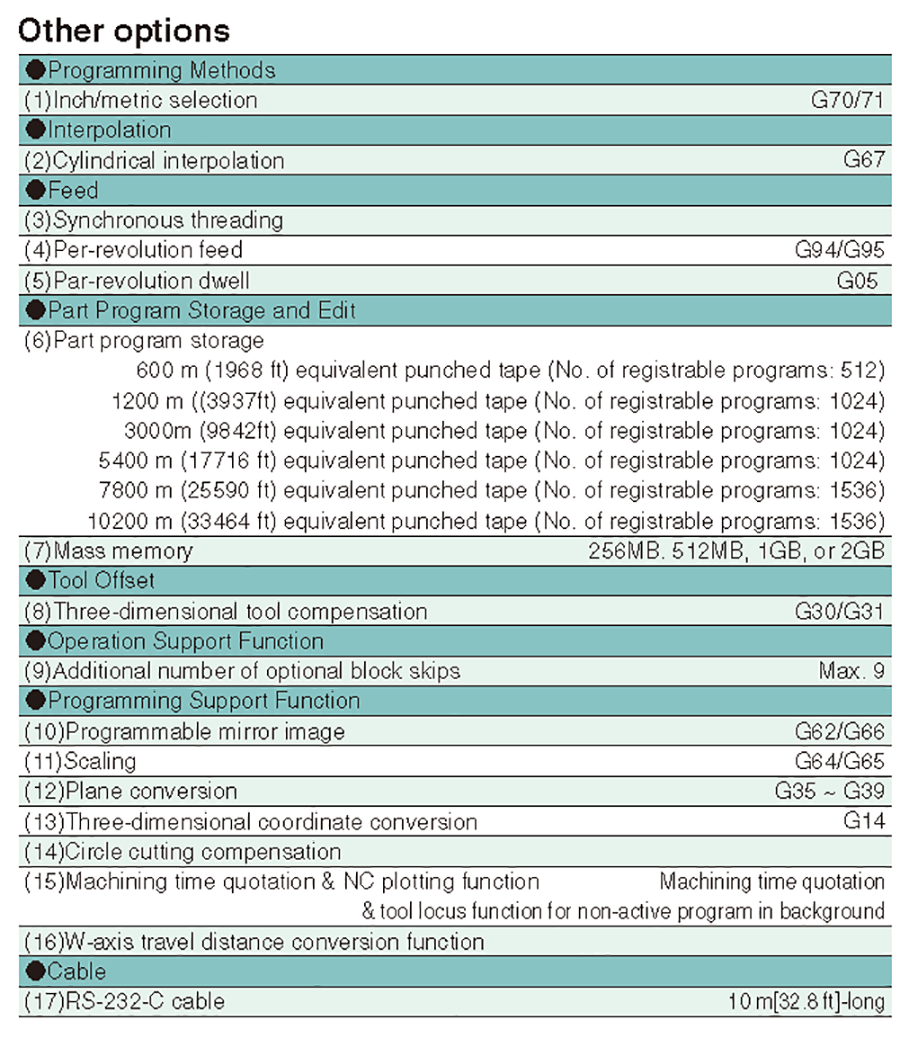 User media (including option set "B")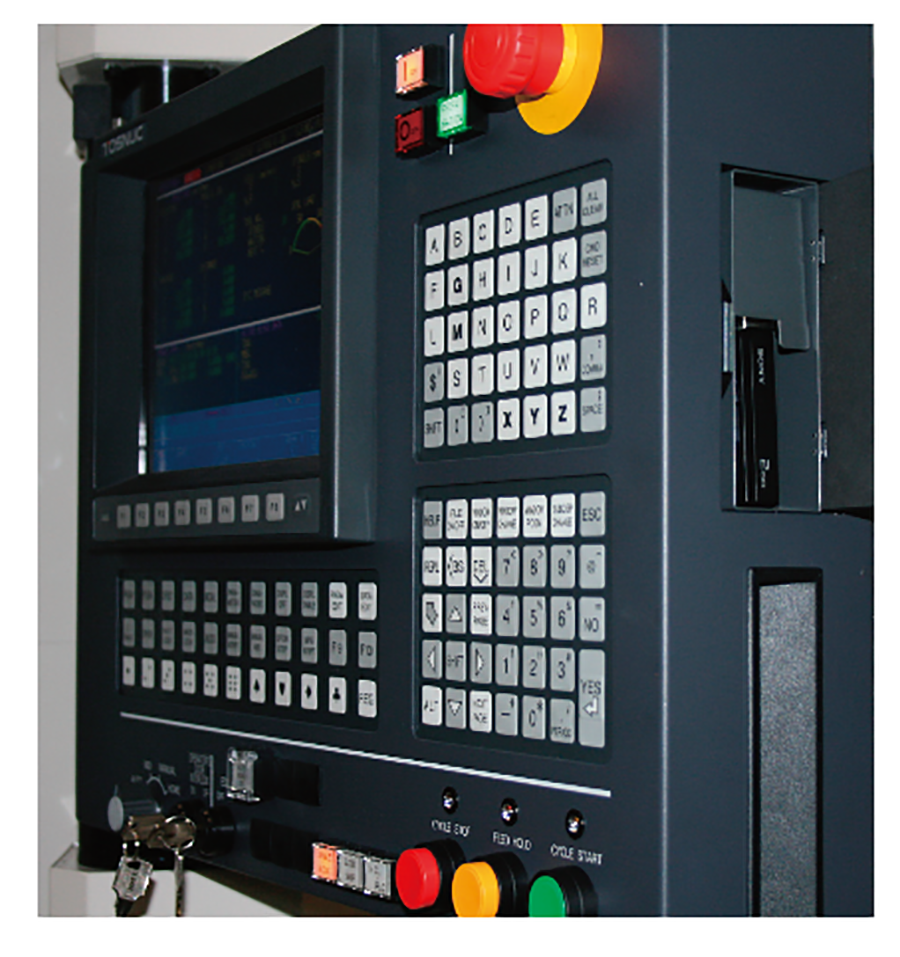 Convenient device to manage programs of large capacity
Pendant operation box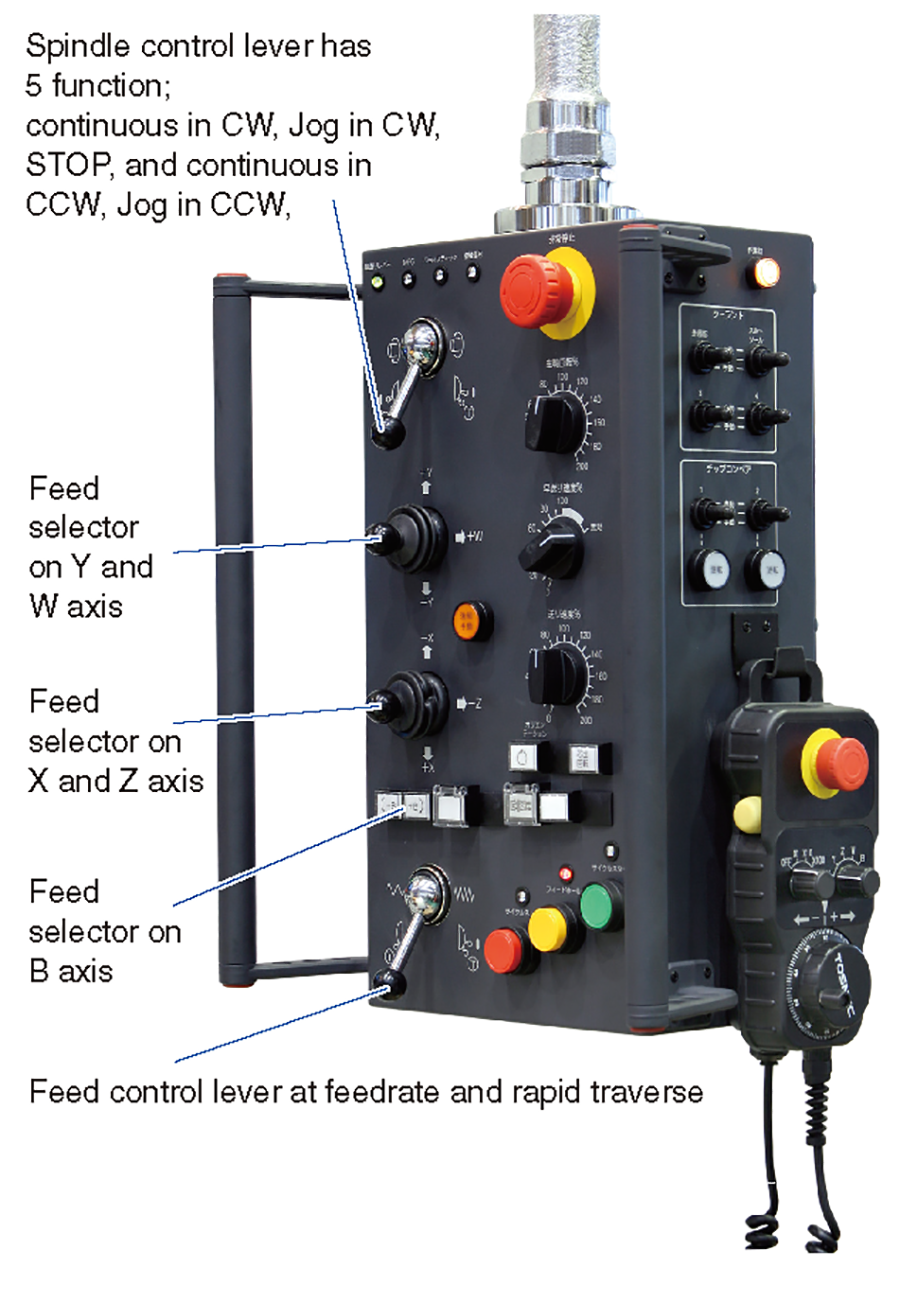 Operation switches used in manual mode are placed on the independent operator pendant, to separate operation in auto and manual mode in order to avoid wrong operation in mixed mode operation.
General views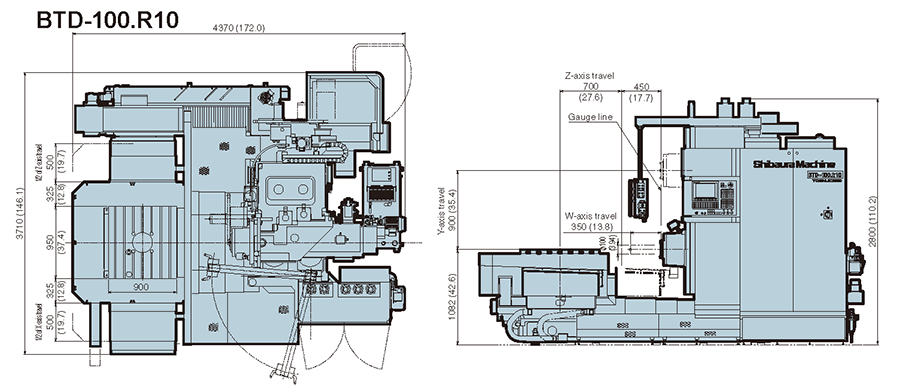 Catalog