TOSHIBA MACHINE (SHANGHAI) CO., LTD.
Creation of new valuable machine in China
We started operation in 2003 as the fourth factory of Toshiba Machine.
This was the first production base in China as the injection molding machine manufacturer from Japan.
The die-cast machines are produced besides the injection molding machine.
A technical center is also established in the factory, executing molding trial, seminar and schooling.
We offer products under strict quality control the same as Japan to get customer's satisfaction.
Company Profile
Company name
TOSHIBA MACHINE (SHANGHAI) CO., LTD.
Location
4788 Jin Du Road, Xinzhuang Industrial Zone, Shanghai, 201108, PEOPLE'S REPUBLIC OF CHINA
MAP
Business
Production of injection molding machine, die-cast machine, etc.
Form of Company
WFOE: 100% owned by Toshiba Machine Co., Ltd.
Established
June 2002
Site Area
Land (43,200m2 ) with the first factory (5,184m2 ), second factory (6,480m2 ) and third factory (5,184m2 )
Number of employees
approx. 196

Manufacturing item
Electric injection molding machine EC-S Series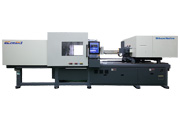 All electric injection molding machine EC-S Series for plastic parts manufacturing.
We produce and sell fourteen models from 30 tons to 1000 tons of mold clamping force.
Die-cast machine DC-J / DC-R series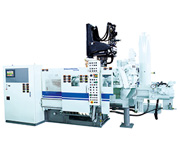 We produce and sell nine models from 135 tons to 2250 tons of die-cast machine DC-J and DC-R series for aluminum and zinc forming.
SCARA Robot THL series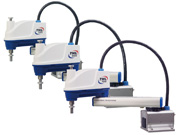 We produce and sell three models from 500mm to 700mm of SCARA Robot THL series.
Quality assurance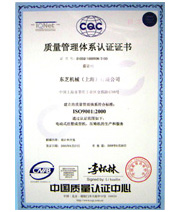 We place the offering of the same quality as Japan even in foreign countries first, to produce the machine that can be used safely and at ease based on the starting point QCD of product making.
Quality assurance control item.
Quality guidance to processing, purchase goods and trader.
Stabilization of cast material, stabilization of processing accuracy.
Quality stabilization of purchase goods.
Delivery date management of purchase parts.
Stabilization of supply by order management and delivery date management.
Stabilization of work by continuous guidance.
Assembly and inspection guidance by Japanese.
Acquisition of ISO9001.
We acquired the quality control of ISO9001 in 2004 and ISO14001 in the same year.
We promote offering the machine that is environment friendly and highly productive.
Process/purchase inspection

Thorough quality control inside/ outside company
Assembly

Strict process control the same as Japan
Inspection

Thorough inspection preventing trouble after shipping
CS service
We exhibits injection molding machines and die-cast machines equipped with incidental equipments that enables operation in a showroom and technical center to have the customer understand more deeply about the commodity before purchase.
We also provide molding and casting tests and technical training for the customer.
Moreover our Japanese engineer who has expertise will reply to customer's request of technical examination for mold products and consultation concerning equipment planning etc.